NBC Reviving 'Coach' with Craig T. Nelson NBC reviving Coach with Craig T. Nelson
Nelson will reprise his role as Hayden Fox in a 13-episode sequel to the sitcom that ran from 1989 to 1997. Set in the present day, Nelson will play a retired coach who's called back to serve as assistant coach for his son's Ivy League team.
President Obama interviewed The Wire's David Simon
The president, a huge Wire fan, had a conversation with Simon over the war on drugs.
Country singer Sara Evans blasts "disgusting" Last Man on Earth
Evans went on a Facebook rant, expressing outrage that Fox would air such a show. "So. I sat down last night with our teenage children to watch The Last Man on Earth. Thinking it could be a funny new show that we could start, right?" Evans wrote. "I was thoroughly disgusted at how disgusting it was/is."
How much of Empire is inspired by Lee Daniels' relatives?
The Smoking Gun found that Daniels' brother-in-law is a former Crip who's been convicted of cocaine trafficking. According to The Smoking Gun, "like the fictional Lyons clan, Daniels's own family members have been targeted in narcotics investigations, arrested, sent to federal prison, and, like 'Cookie' herself, released early after cooperating with prosecutors."
Sherlock co-creator on Americans having to wait: "I think it's absolute bloody nonsense"
Steven Moffat, whose Doctor Who airs on the same day in Britain and the U.S., thinks the long wait times helps promote piracy.
Seinfeld's Jason Alexander will replace Larry David on Broadway
Alexander will take over the Fish in the Dark role on June 9.
Downton Abbey boss: "I think a movie could be completely stand-alone"
"I don't think we're going to kill them all," says exec producer Gareth Naeme says of ending the series. "The narratives of these fictional people will continue once the camera moves away. They will move on into the future. And I think a movie could be completely stand-alone. It doesn't need to directly pick up from the TV show. It could come before it or midway through it. It's a very different story than the series." PLUS: What we need to see in the final season.
The entire Breaking Bad series to be shown on British TV for the 1st time
The AMC series was dropped after its first two seasons aired on UK TV. That left "Breaking Bad" fans to turn to Netflix for the show.
Mad Men's Aaron Staton joins Ray Donovan
He'll play a high school teacher with a tragedy in his past.
Jon Hamm reflects on the end of Mad Men
"I didn't go into a quiet room and light a candle," he said at last night's Black and Red Ball. "But I've certainly thought about it by myself for quite some time, and it's hard not to. It's a long run and a long ride, and a lot of people worked really hard on it. So I feel like it's deserved to take a moment and really feel like, 'Okay, this is what we did.' And we should be proud of it." PLUS: Catching up with Mad Men alumni, and creator Matthew Weiner is trying to save Norm's, the iconic L.A. restaurant where he wrote his first Mad Men notes.
It's official: Oscar producers Craig Zadan and Neil Meron aren't returning
Zadan and Meron oversaw the Neil Patrick Harris, Ellen DeGeneres and Seth MacFarlane Oscars.
Justin Kirk to boss Sarah Silverman around on HBO
The Weeds alum will play Silverman's "paranoid, charismatic and occasionally antagonistic boss at the video game company" on her new HBO comedy.
The View celebrates 4,000 episodes Friday
To celebrate, Barbara Walters and Joy Behar will return to the panel.
Ashton Kutcher goes back to his Punk'd roots in Australia
Wearing a curly wig, Kutcher pranked people at a JB Hi-Fi store in Sydney.
MeTV gets Breaking Bad's Vince Gilligan to put together a programming block
On April 5, Vince Gilligan's Island will feature Gilligan and guest Bob Odenkirk as they look back at the classic shows that influenced the Breaking Bad creator.
Halt and Catch Fire returns May 31
The AMC series will kick off Season 2 in 1985.
Melissa Joan Hart to guest on The Mysteries of Laura
She'll play a Serial-like radio host.
The Bachelorette to feature a rap battle
One of the two Bachelorettes was spotted filming in NYC on Wednesday.
NBC sets summer premiere dates
Craig Robinson's Mr. Robinson, Bear Grylls' The Island and Jane Lynch's Hollywood Game Night will be part of the Peacock's summer lineup.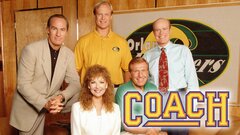 Coach
where to stream
Powered by