'The Bachelorette' Breaks Barriers With Rachel Lindsay
The Bachelorette - Rachel Lindsay
THE BACHELORETTE - Rachel Lindsay, a fan favorite on the 21st season of ABC's hit romance reality series "The Bachelor," starring Nick Viall, was named as the next woman to hand out the roses and attempt to find her own happy ending.
When The Bachelorette returns to ABC on May 22, will it mark the beginning of the most dramatic season yet? That remains to be seen, but it will certainly be the most historic. For the first time, the hit dating docuseries will feature a person of color—Dallas-based attorney Rachel Lindsay, 31. "One of TV's biggest franchises is breaking through a last barrier," says media analyst and consultant Peter Hamilton, publisher of the industry newsletter DocumentaryTelevision.com. "This sends a message about fully representing the American population."
It's been a long time coming. There have been 21 installments of The Bachelor, and this is the 13th round of The Bachelorette—and the lack of diversity thus far has not gone unnoticed. In 2012, two African-American would-be contestants filed a class-action lawsuit claiming racial discrimination (the suit was dismissed). "The Bachelor is embarrassingly white," stated The Washington Post in 2015. Even Lifetime's UnReal, a scripted dramedy about the inner workings of a matchmaking series, brought attention to the issue last season when it cast their show's inaugural black "Suitor."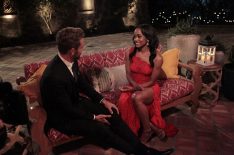 See Also
The Texas attorney makes history...and perfect sense.
Still, Bachelorette host Chris Harrison says public pressure isn't the reason that Lindsay was selected to dole out the red roses. "We don't just have knee-jerk reactions," he says. "Yes, it is incumbent on us to make our casting more diverse, but the most important thing is always going to be picking the right person. Rachel was the right choice."
Lindsay became an instant frontrunner while vying for the heart of Nick Viall on The Bachelor last season. (The franchise typically picks its next lead from the pool—or make that hot tub—of recent runners-up.) "She's the epitome of what our show is about," Harrison says. "Someone who seemingly has everything except for the man or woman of their dreams."
Lindsay will be courted by singletons from a variety of backgrounds—"it's easily the most diverse group we've had," Harrison says—and naturally, ethnicity may play a part in the conversation. But anyone expecting a departure from the escapist business as usual will be disappointed. "Race won't be dominating the landscape, nor should it," vows Harrison. "We haven't changed the secret sauce. This is a story of people trying to find love and all that entails. It's not The Black Bachelorette; it's The Bachelorette."
As for the impact that this might have on programming overall? "If the ratings are a blowout and this season is really successful, then I'm sure it will figure into future decision-making," Hamilton says. "TV executives love to emulate success."
The Bachelorette, Season Premiere, Monday, May 22, 9/8c, ABC