Today in TV History: A Dame in Distress
When: April 4, 1965
Where: Leicestershire, U.K.
What: Diana Rigg gets all tied up on the set of The Avengers.
In the Spring of 1966, tongue-in-cheek British spy drama The Avengers became one of the first U.K. series to achieve stateside success when it premiered on ABC. But just a year earlier, the show was in a period of perilous transition. Actress Honor Blackman, who portrayed Dr. Cathy Gale opposite Patrick Macnee's suave agent John Steed, had departed. Her replacement, Elizabeth Shepherd, was let go after only one and a half episodes. Enter theater actress Diana Rigg (Game of Thrones' Queen of Thorns), chosen by writer-­producer Brian Clemens to take over as the irrepressible Emma Peel.
Soon, the future Dame found herself prone on the rails of the Stapleford Miniature Railway in Leicestershire, a private track owned by English aristocrat and train enthusiast Lord Gretton, filming her second episode, "The Gravediggers." The installment (which also features Benedict Cumberbatch's mother, Wanda Ventham, in a pivotal role as a nurse) follows Steed and Peel's efforts to protect Britain's early-warning radar defense system from villains and culminates in a train-side showdown choreographed by stunt coordinator Ray Austin, who also appears in the episode.
Rigg: Patrick welcomed me with open arms from the beginning. It was that thing where you meet somebody and think, "Yes, I really like you!" We never had anything more than what you saw on the screen, and never had any relationship outside the studio, but we just clicked.
Austin: Brian Clemens was the first person to give women their emancipation on television. When we planned "The Gravediggers," Brian and I had been to America and we got the idea from the old railway chases where the cowboy jumped from carriage to carriage.
Rigg: It was a pastiche of those early black-and-white silent movies of a ­woman being tied to a train track. The estate was typically British–it was ­astonishingly private and there was loads of land.
Austin: The scene was so much fun to do. We were joking, "What if the railway crossing didn't work?" Patrick and I fought on top of the train. I banged my shoulder badly when he threw me off it. Patrick was most nervous about running along the carriages as [the train] was going along. He wasn't too happy about that, and if I remember rightly he nearly fell, but he managed to do the whole thing himself. I drove the train in the scene, but Lord Gretton was actually steering it off camera. Diana was good as gold, but she wasn't tied up. There was rope around the track and around her wrists. She could stand up any time she wanted.
Rigg: I must have been nervous to begin with, but I was hiding it pretty well. To be honest, when I see myself in an early series, I don't know where that confidence came from. Initially, Patrick was the predominant partner and then, as time went by, he acceded to me and the two of us wrote scenes together. We got very tired of just finding dead bodies!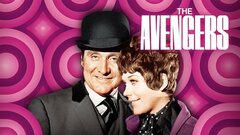 Powered by