Fresh Off the Boat Cast Talks Parental Instincts and Go-To Time Wasters (VIDEO)
https://player.waywire.com/?id=MH1RW638TLPZRV37
While ABC's new comedy Fresh Off the Boat features a Taiwanese family struggling to adjust to a white suburban neighborhood in Orlando, Florida, its actors Randall Park and Constance Wu have no problem adjusting to their young co-stars (Hudson Yang, Ian Chen, and Forrest Wheeler).
"They're more like colleagues. They teach us lessons," says Park.
Although parental instincts are reined in, the actors admit to losing control over their go-to time wasters.
"I've been on Amazon priming it a lot," says Park.
The stars sat down with us to talk about their show, and what's on their DVR.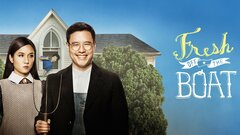 Powered by