Women of Vikings Make a Fearless Foursome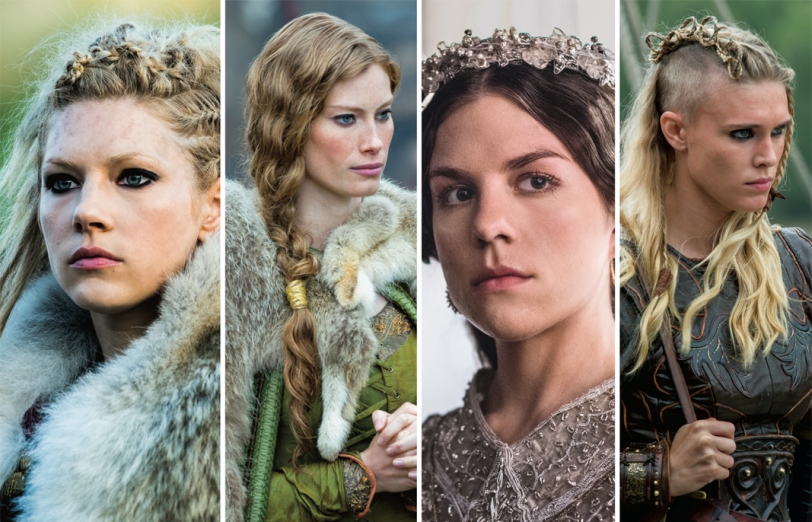 We've all seen that strong female character on TV who kicks ass and spouts sass–all while wearing five-inch heels. But you won't find her on Vikings. The resilient women of History's Norse saga set in the eighth century know how to forage, wield axes, and go spear-to-spear with their male counterparts. But they are also emotionally complex, still reeling from the tragic death of one of their own, power-hungry Siggy (Jessalyn Gilsig) in Episode 4. Here, we meet the fearless foursome.
Lagertha (Katheryn Winnick)
Who is she? A shield-maiden and farmer who has risen to earl and now rules her own lands. But with that power came betrayal by trusted second-in-­command Kalf (Ben Robson), a relationship that will get even more complicated, says Winnick, who relates Lagertha's struggle to that of today's female CEOs. "I look at powerful women who run big companies and have men under them that they have to rule over–I don't know if the right word is rule," she says with a laugh. "But there's so often a conflict."
What's next? More conflict is headed Lagertha's way when her alliance with ex-husband Ragnar (Travis Fimmel) lands her a key role in the upcoming Viking raid on Paris. "I kept saying to [creator] Michael Hirst, 'Get me back in my armor!' " says Win­nick, a onetime martial arts champ and a ­licensed bodyguard. "I was a little jealous when everybody else went raiding, so
I was really excited when I got to pull out that shield and sword again."
Aslaug (Alyssa Sutherland)
Who is she? A Viking princess with clairvoyant powers who seduced the married Ragnar in Season 1 after she had a vision of their future sons. "I felt heartbroken that she'd been reduced to being just the second wife of Ragnar," says Sutherland. This daughter of shield-maiden Brunhilde and dragon-slayer Sigurd is now queen to Ragnar's king and spends her days caring for four young boys, one disabled, while Ragnar is off raiding.
What's next? Aslaug's recent one-day stand with wanderer Harbard (Kevin Durand), who may be a Norse god, will prove to be a turning point. "Aslaug is done trying to please Ragnar," says Sutherland. "She'll finally regain her identity and go after what she wants–she won't take no for an answer." Adds Hirst: "You'll definitely see her get back in touch with her Viking roots. She gets darker and stronger [by season's end]."
Princess Gisla (Morgane Polanski)
Who is she? The brave young daughter of the fearful king of France makes her first appearance in the April 2 episode when Viking forces head to Paris. "A French princess? I had no idea she was going to be such a badass," says Polanski, the daughter of famed director Roman. "I said to Michael Hirst, 'God, you really write for a woman.' Usually men have the dream parts. They have all the important things to do. And women are just there to be an accessory, unfortunately."
What's next? "Princess Gisla's father is a coward," Polanski says. "He doesn't face what's coming–but she does. She helps rally the soldiers." The Paris battle sequences are the most complex ever to be shot for the series. For one intense scene, Polanski says, "My adrenaline was pumping. I was so scared." But not Gisla. "She's very brave," says the actress. "She would rather die fighting than give into the pagans and compromise her way of life."
Porunn (Gaia Weiss)
Who is she? A onetime slave to the Vikings who caught the eye of Ragnar's son Bjorn (Alexander Ludwig), she is now the mother of his child. Before delivering the baby, she nearly died in a battle that left half of her face disfigured and her mind anguished. "I wore that horrible scar every day for five months. It was a bit depressing. At first I thought the prosthetics were really cool. But then, no one could look me in the eye," Weiss says. "Day after day, I was more and more Porunn and less and less Gaia. I went into really dark places I didn't know I had." Porunn wants to prove her worth to Bjorn and his people. "She's an outsider. Fighting well means recognition as a true Viking, so she takes her injuries as a failure."
What's next? There is light ahead. Porunn's relationship with Aslaug will give her strength, and the former slave just may become the show's most quintessential Viking. Says Weiss, "She'll overcome what's broken inside her."
Vikings, 10/9c, History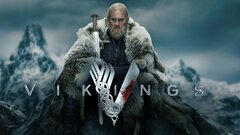 Vikings
where to stream
Powered by