NCAA Men's Basketball Preview: Size Matters for Unbeaten Kentucky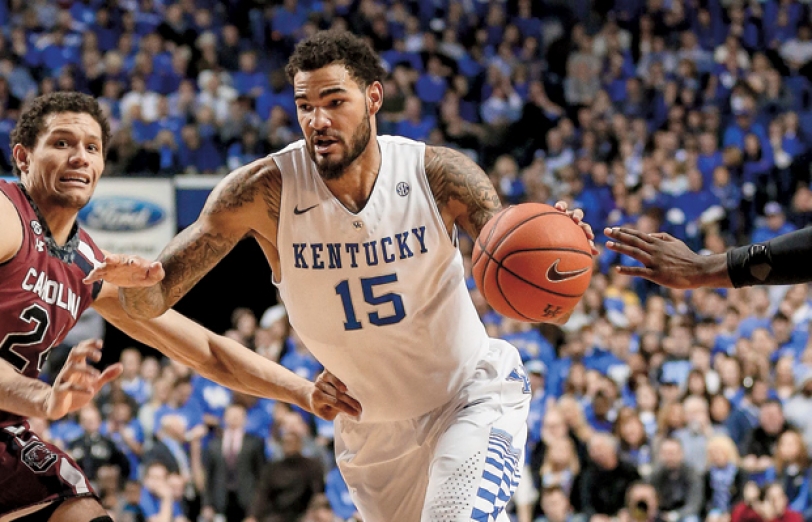 It'll be a tall order for anyone to topple Kentucky as the 2015 NCAA basketball tournament begins this week. "Their size is something that really jumps out at you," CBS analyst Bill Raftery says of the tournament's overall top seed (and No. 1 in the Midwest Region). Willie Cauley-Stein (pictured above) and Dakari Johnson are 7-footers, with Karl-Anthony Towns standing at 6'11" and Trey Lyles at 6'10". Texas-Arlington coach Scott Cross, whose team lost to Kentucky 92–44 in November, said of the Wildcats' size, "We could have guys standing on chairs and not even simulate it."
Kentucky, which lost to Connecticut in last year's NCAA title game but is undefeated this season (34-0) and ranked No. 1, is among the nation's top teams in fewest points allowed and most blocks. "Defensively they're as good as anybody we've seen—you just don't get easy shots against them," Raftery says. "And they can score. They've got Devin Booker, who is a great shooter, and Aaron Harrison."
The only numbers that the Wildcats are intentionally keeping low are minutes played. Coach John Calipari has used a two-platoon system—substituting groups of players—because his bench is so deep. Cauley-Stein was averaging 25 minutes a game. "If he were with another [team], he'd be getting 37 minutes," Raftery says. However, he adds, "There's no comedown in the talent level when they sub."
Raftery, who joins the television broadcast of the Final Four for the first time after working the past 23 as a radio analyst, calls Gonzaga "the one team that would be a fun matchup with Kentucky because they have size too."
Wisconsin, which lost to Kentucky 74–73 in last year's Final Four, has its own big man in senior forward Frank Kaminsky. He leads the Badgers (the No. 1 seed in the West Region) in scoring and rebounding and, Raftery marvels, "he shoots outside at 7 feet tall." Duke (the top seed in the South Region), Villanova (No. 1 in the East Region), Virginia, and Arizona could also emerge from March Madness to spend April in Indianapolis.
"It's interesting to me this year because many teams are even," Raftery says. But some stand taller than the rest.
The NCAA Division I Men's Basketball Championship begins Tuesday and Wednesday with the First Four games in Dayton, Ohio, on TruTV. Tuesday's coverage begins at 6/5c, with Manhattan vs. Hampton tipping off at 6:40/5:40c, followed by Brigham Young vs. Mississippi. On Wednesday, North Florida plays Robert Morris in the first game, followed by Boise State against Dayton (which lucked into a home game).
The so-called second round begins at Thursday at noon/ET across CBS, TBS, TNT, and TruTV. Kentucky opens play Thursday evening on CBS against the winner of the Hampton/Manhattan game. For the full schedule and bracket, click here.
TBS will air the Final Four national semifinals on Saturday, April 4, while CBS once again has the national championship game two days later.
Why the clinically unemotional Kirsten, who suffers from temporal dysplasia (a fictional condition that renders her emotionally distant and unable to perceive time), is singled out for the inclusion in the project is a large part of the show's central mythology. And there will also be questions about the murky origins of the Stitcher technology, which executive producer and series creator Jeffrey Alan Schechter warns is not just made-for-TV science. "They're already working on memory mapping, and someone just published a paper on implanting memories…sort of like Inception," he says. "I like to think of us a speculative fiction instead of science fiction."
Stitchers, Series premiere Tuesday, June 2, 9/8c, ABC Family