'We Will See a Lot of Secrets Revealed,' Says Hindsight Creator of Season Finale
As Season 1 of VH1's Hindsight comes to an end, so does the year 1995, as the series rings in the new year in tonight's finale episode.
"A lot of stories will wrap up, but not necessarily neatly," creator Emily Fox teases of the Season 1 closing. "We will see a lot of secrets revealed, and one particularly unexpected twist."
The year might not be all that's ending. Tonight, Lolly (Sarah Goldberg) catches best friend and time-traveler Becca (Laura Ramsey) kissing her hometown crush Kevin (Steve Talley). "The kiss is our little version of the shot heard around the world," Fox says. And boy, will shots be fired after that lip lock.They certainly were the first time around: in the original timeline, Lolly caught Kevin and Becca in 2004, six months into their "relationship," (She was cheating on her then-hubby Sean with Kevin) leading to the estrangement of the two BFFs. But this time, she's busting them way earlier.
"We're getting an unfolding of events that are similar to events that unfolded in the past, but executed in a different way and earlier in the trajectory of Kevin and Becca," Goldberg says. "So the question is: Can Becca stop it spiraling the way it did in the past? Or are we sort of destined to end up in the same mess?"
With Becca's hindsight, things won't go down exactly the same way. "Becca handles it very differently than she did in the past, and so the hope is that she can be able to save things with a bit more honesty," Goldberg explains.
While Becca has her understandably difficult New Year's, Sean (former ex-husband, and the man she left at the alter in her re-do) is having a pretty great holiday showcasing his work in an art show – hopefully with actress Paige (Drew Sidora).
"Sean's found something he never found before in his previous timeline," Fox says. "It shows Becca in a bittersweet way that maybe why they never thrived was perhaps [because] she was in his life."
Hopefully she can at least be good for her little bro, Jamie (John Patrick Amedori). Last week, Becca believed Jamie was set on a better track, but viewers know that he may be jumping into even more dangerous territory: Selling drugs to pay for college. "Jamie is trying so hard to do right and yet is so vulnerable to outside influences that he is just trying to scramble up a sheer cliff with his fingernails," Fox warns. "Becca wants to help, and yet everything she tries to do seems to backfire, and it really makes her question, 'Is there really anything I can do?'"
If only Becca had let Lolly and Jamie's relationship run its course – she might not be in her current situation if she had. "That's the great tragedy and comedy of her situation that she cannot predict anything, and yet she thinks she can," Fox says.
Which is a shame, because Lolly's connection with Jamie is like a bonfire compared to the single match that she and Kevin spark. "I think that Lolly is in love with Jamie for real," Goldberg says. "They bring out the best in each other in a fun way. They're these two kids in a candy store, but we also see them push each other into making better decisions."
She also thinks Becca's warnings about the future have Lolly burying her feelings for Jamie and turning to Kevin instead. "Kevin is just sort of the one that's in the line of fire, and Lolly convinces herself that she's madly in love and this will be the answer; being with him will fix everything," she says. But will it?
Despite all this drama, we're still expecting a fabulous welcome party to 1996, with the perfect jams and outfits to boot. "All I will say is that there are feathers!" Goldberg teases about Lolly's sure-to-be eccentric outfit.
There's no word yet on whether the series will be picked up for a second season. But if the show gets to continue into 1996, we look forward to seeing more of the year that brought us the Macarena, the Spice Girls' "Wannabe," Ask Jeeves and gas for $1.22.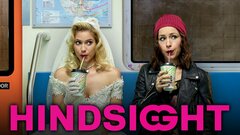 Powered by