What's On: A Tornado Descends Upon 'Superstore,' 'Star Wars' 'May the Fourth' Celebrations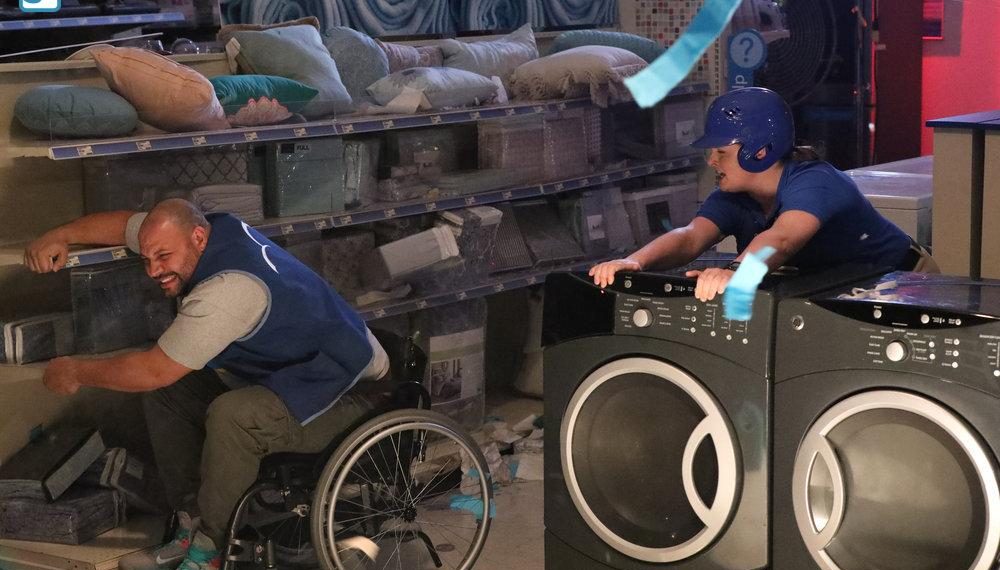 Superstore (8:30/7:30c, NBC): Dark clouds descend upon Cloud 9 in the second-season finale, and the question isn't so much who will live or who will die when a tornado threatens the store in a special-effects extravaganza, but who'll lose their jobs when Glenn (Mark McKinney) is forced to lay off six employees. Not to worry. The show has been renewed, so most will return in the fall.
TBS Celebrates Star Wars Day (starts at 6:40 am/5:40c, TBS): In a programming stunt TBS intends to make an annual tradition (much like the holiday 24 Hours of A Christmas Story blitz), in recognition of how "May the Fourth be with you" has become associated with a worldwide "Star Wars" day, the first six films will air in a chronological marathon. Which means it's really OK to settle in around 5:40 pm/4:40c when the actual first movie released, now known as Star Wars: A New Hope, begins.
Or you could check out Science Channel's replays of two Star Wars­-themed episodes of Mythbusters, in which Jamie and Adam test the fantastic science immortalized by George Lucas. At 7/6c, Chicago PD's Sophia Bush helps the guys test the stunt where in Luke and Leia shot across a chasm with only a grappling hook. At 8/7c, they re-create a Laser Blaster battle and a light-sabre duel. You know, like Star Wars fans do the year round.
TCM Spotlight: Creature Features (8/7c, TCM): If Star Wars isn't your thing, then maybe Turner Classic Movies' monster-movie lineup will grab you. Though maybe not as violently as The Creature From the Black Lagoon (8/7c) grabs Julia Adams. Its sequel, Revenge of the Creature, airs at 9:30/8:30c. And the original 1933 classic King Kong, yet to be surpassed, roars its way into Fay Wray's screaming heart at 11:15/8:15c.
Inside Thursday TV: Breaking Bad's Dean Norris returns to CBS's The Big Bang Theory (8/7c) as the colonel supervising the super-nerds' top-secret Air Force project, which has finally come to an end, though not without an unhappy surprise. … Fox's Masterchef Junior (8/7c) welcomes Muppet icons Miss Piggy and Swedish Chef as surprise guests in an elimination challenge for the young chefs. … Yet another mom emerges on CBS's Mom (9/8c), as Jill (Jaime Pressly) and Christy (Anna Faris) take Jill's foster daughter Emily (Julia Lester) to see her biological mother (Missi Pyle). … Getting the right taxi is always an issue, no matter where the contestants go on CBS's The Amazing Race (10/9c), but with the latest leg taking everyone to Venice, one team is all wet in their frantic search for a water taxi.