'Fargo' Season 3, Episode 3: 'The Law of Non-Contradiction' (RECAP)
This week's episode of Fargo is pointless, which seems to be the point. "The Law of Non-Contradiction" takes a show that's normally defined by its ensemble cast and its northern setting and abandons it all to focus on Gloria's existential voyage to the weird and wonderful fantasyland of Los Angeles.
Grasping for some kind of meaning in Ennis' death, Gloria sets out to the West Coast to piece together her late sort-of-stepfather's past, armed only with a 35-year-old newspaper article on Ennis' sci-fi author alias Thaddeus Mobley and a few other mementos from a forgotten life.
Complementing Gloria's, the episode weaves together two other stories of confusing and painful self discovery, beginning with a flashback to Thaddeus in the 1970s as a young, impressionable science fiction writer caught in the glitzy web of a con-man movie producer. All it takes is one montage of hard Hollywood living to get a naïve teetotaler like Tad into bed with a strung-out starlet and hooked on coke.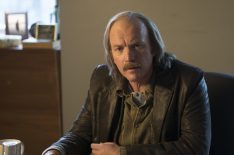 See Also
Noah Hawley talks about the genesis for creating Season 3 of his acclaimed anthology series 'Fargo'.
From there, the action cuts to an animated reenactment of Thaddeus's award-winning book, The Planet Wyh. Gloria summarizes the gist of the book pretty astutely to the frequent flyer sitting next her on the plane to L.A. "There's a robot, I guess," Gloria says, "and he's wandering, looking for, I'm not sure, the meaning of life, I guess."
The first segment of Wyh sets up the helpful little android's wanderings with a crash landing and the dying wish of a space pilot (voiced by Ewan McGregor). The seemingly straightforward task to "get word back," and "let them know it wasn't all for nothing," stumps the robot and sets him off on a multi-million-year quest for purpose.
But despite the sci-fi through-line, the most alien setting of the episode is sunny Los Angeles, at least in the context of Fargo. Only in Hollywood would Santa Claus steal your luggage.
Gloria's search for hints of Ennis's past leads first to the motel where he got his award all those years ago, when he was still Thaddeus. In her room, which happens to be the same room where Ennis had stayed, Gloria finds a switch that, when flipped, triggers a mechanism to unflip the switch. It's just about as concrete as a physical representation of futility can get.
Her next step is to track down Vivian Lord, the woman Ennis had kept a picture of in his secret box. Lord, who unbeknownst to Gloria was the starlet who had ushered Thaddeus to his downfall with cocaine and sex in the 70s, claims she doesn't remember Thaddeus, or anything else from the 70s for that matter. Eventually she has a change of heart, but not before Gloria moves on to her next lead.
Making use of the Writers Guild of America archives, Gloria tracks down Howard Zimmerman, the producer who took all of Thaddeus's money. Zimmerman gives Gloria a science lesson about "quantum…something" and random particle collisions, reinforcing once again the insignificance of individual interactions. The nurse at Zimmerman's facility hints at some type of accident that left Zimmerman in a nearly vegetative condition.
That night, Lord calls Gloria back to give her the details on that so-called accident. In another flashback, Thaddeus, looking for a fix, catches Zimmerman and Lord plotting and pieces together that they've been scamming him all along. A bit of verbal abuse from Lord and physical abuse from Zimmerman lead Thaddeus to return a bit of the same to each. The culmination of the loss of innocence encapsulated in Thaddeus' "you're a bad person," rebuke to Lord hits harder than the near-fatal beating he lays on Zimmerman.
Hearing about all of this, Gloria finally realizes what the audience has known all along, trailing off as she puts it into words. "It's just a story. None of this has anything to do with…okay."
The meaning and closure she's been searching for are nowhere to be found in Hollywood. The last thing she does find there is the inauspicious place from which Thaddeus took his assumed name: a stamp on a toilet that reads, "Dennis Stussy & Sons."
RELATED: Subscribe To TV Insider's Fargo Newsletter
Fortunately for Gloria, things have progressed in the investigation in Minnesota without her. Fingerprints at the crime scene have led straight back to Maurice, who happened to be the last particle to collide with Ennis before he died.
Wrapping up the tale of the android from Wyh, it isn't able to find any meaning in the data it has collected either, but that doesn't make it entirely meaningless. In the end, an advanced civilization finds the robot and promises to put its 2.38 million years of data on the rise and fall of countless civilizations to use. The robot, never having fully understood how to complete its own mission, shuts itself down knowing that it has at least helped someone to understand something, for better or worse.
Not every little connection means something, but taken all together and with the right perspective, every person's individual data points trend toward some sort of progress, unfathomable as it may be. Searching for that correlation isn't always the most reliable way to find it. Sometimes the best way to get any sort of closure is to just accept a little bit of randomness and ponder your next moves over some Arby's.
---
Miscellaneous thoughts:
Rob McElhenney is well cast in his guest appearance as a very Always Sunny-ish cop who hits on Gloria in a way you might expect from Mac or Dennis, but the Facebook gags about not really knowing online friends feel like they were written in 2010.
Fargo, Wednesdays, 10/9c, FX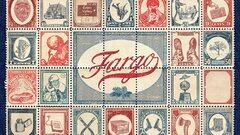 Powered by