First Look: Seeso's 'There's…Johnny!' Explores Love and Comedy in the 1970s
Attendees at New York's Tribeca Film Festival will get a first look at Seeso's There's…Johnny! Thursday night, but TV Insider has an exclusive look at the first cast photo (above) right here.
The eight-episode Seeso original series follows the lives and challenges of Andy (Ian Nelson) and Joy, both young talents trying to make it in the television industry while working at The Tonight Show Starring Johnny Carson in the early 1970s. Stage and screen veteran Tony Danza stars as Fred de Cordova, the executive producer of The Tonight Show. The comedy will intertwine live action with authentic footage of Johnny Carson and his famous guests thanks to unprecedented access to the show's archives.
There's…Johnny! is written by Red Oaks' Paul Reiser and David Steven Simon. Reiser and Simon also serve as executive producers on the series along with David Gordon Green.
There's…Johnny, Series Premiere, 2017, Seeso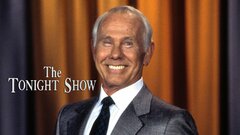 Powered by