Bates Motel Descends Into Darkness for Season 3
Anyone who saw the chilling final moments of Bates Motel's second season can be forgiven for immediately thinking of knives and that infamous shower curtain. After remembering he murdered teacher Blaire Watson and then locking lips with his mom, Norma (Vera Farmiga), dead-eyed 18-year-old Norman Bates (Freddie Highmore) channeled his "Mother" alter ego and seemed primed to go full-on psycho. But in Season 3 of the prequel to Alfred Hitchcock's classic, Norman won't give in to the darkness without a fight, exec producer Kerry Ehrin says.
"Norman is still trying to keep the faith and be a good boy," she explains. "He wants to be able to differentiate reality from unreality; it's quite an operatic struggle."
When the series returns tonight, Norman is in a good place, happily working at the family motel while being home-schooled. He and his only friend, Emma (Olivia Cooke)–the seriously ill girl who has been crushing on him–decide to start dating. But his calm is quickly interrupted by a sexy young stranger named Annika (Revolution's Tracy Spiridakos), who checks into the motel. "Norman takes a sympathetic interest in her," Ehrin explains.
More like a creepy interest. On a typically rainy December evening outside Vancouver, where the show is shot, Norma makes her way down the steep stairs of her forbidding Victorian home and spots her son peeping through a motel window at Annika in the shower–cue the screeching violins. Horrified, she pulls him away, hissing, "You can't be skulking around the dark peering into the guests' bathrooms! It's not normal!"
The wrongs will continue to pile up. "We're moving toward the middle of the show's arc," says Highmore, drying off during a break in filming. "Norman's descent and the story's inevitable end is in sight more than ever. After killing Ms. Watson, he realizes that he can do horrific and dangerous things. The third season is more resolving of the fact that there may be no hope for him."
And others are starting to notice. Norma's older son, Dylan (Max Thieriot), moves back home and points out that an 18-year-old sharing a bed with his mother is not exactly acceptable behavior. Dylan's disapproval yanks Norma out of her bubble. "This season she really comes to terms with the fact that Norman is homicidal," Farmiga says. "With that new awareness, their relationship becomes fragile. In confronting this darkness about her son, she'll have to depend on Dylan and Emma." And in desperation, she'll turn to professional help.
Also back: Dylan's father, Caleb (Kenny Johnson), who happens to be Norma's brother. "Dylan hates this dude," says Thieriot, "but at the same time, that's his dad." Norma is even more conflicted. "Caleb's reemergence sparks serious drama, jealousy, desperation, and desire," Farmiga says. "He really stirs things up."
As does crooked White Pine Bay Sheriff Romero (Nestor Carbonell), who wants Dylan to take over the illegal marijuana trade and who is drawn to Norma. "Romero and Norma relate passionately to each other, though not yet in a bodice-ripping way," says Farmiga. "A lot of things stand in the way of them getting together, but they're inexorably linked."
But even with all these intense relationships swirling around her, nothing can fill Norma's deep need. "The tragedy is that Norma has always wanted the peace and beauty that her terrible childhood lacked," says the Emmy-nominated Farmiga. "She's now discovering that it's actually her beloved Norman who may be standing in her way of achieving that goal. But the only way she knows how to keep him from teetering over that dark edge is to physically hold him close and to love him. It's all making her spin out a bit."
It's going to be an interesting year for Norma, Ehrin says, "because it's a combination of being able to look at the truth for the first time but then collapsing from it and facing the reality that there is something so wrong with the child you love." Particularly when that child is named Norman Bates.
Bates Motel, Season premiere March 9, 9/8c, A&E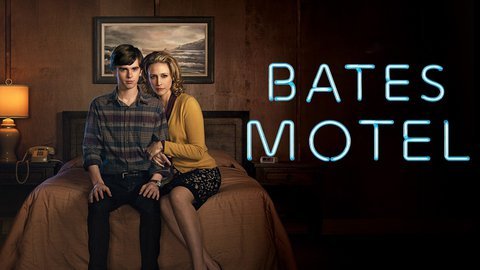 Powered by