Furball Frenzy! Jenna Elfman's Old Pal 'Imaginary Mary' Wreaks Primetime Havoc
At first glance, Imaginary Mary—ABC's new series starring the eternally effervescent Jenna Elfman (Dharma & Greg)—appears to have all the trappings of a standard rom-com. Elfman plays Alice, a sports publicist who's killing it on the career front but, yep, is too fiercely independent to find love. That is, until she meets disarming single dad Ben (Broad City's Stephen Schneider). Now comes the twist: When Alice starts to have real feelings, it triggers the sudden reappearance of her imaginary childhood friend Mary (voiced by SNL alum Rachel Dratch). And her old pal isn't back to brush up on hopscotch either. As Alice quickly learns, this furball is brimming with opinions. Here, Elfman gives us a piece of her mind(s).
This premise is definitely quirky! Did you have any initial doubts? When I read the script it didn't even register as an out-there concept to me because it was so believable. It wasn't until I described it verbally that I realized how odd it sounds!
What's it like shooting these scenes? It's been an awesome challenge. We rehearse with a puppet, but for the actual filming there's nothing there—sometimes I have to change my eyeline 11 times in one scene, based on what Mary and I are doing. Trying to remember all those focal points, interact with Mary, engage with the other characters who don't know about her and make it funny? It's a new skill set!
See Also
Director Kevin Smith, who directs an upcoming episode of
When it comes to Ben's kids, Alice is not exactly a natural. As a parent (to sons Story, 9, and Easton, 7, with husband Bodhi Elfman), is it hard to relate? My first thought was, "How am I going to play someone who knows nothing about something I'm really educated in?" As mothers, we make many sacrifices, and this character is so "me, me, me." I just decided to commit to that and treat this role like a selfish girly vacation!
Imaginary Mary, Series Premiere, Wednesday, March 29, 8:30/7:30c, ABC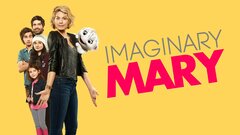 Powered by