'Prison Break' Preview: Lincoln Sets Out to Rescue Michael (VIDEO)
Can Prison Break's Lincoln (Dominic Purcell) save Michael (Wentworth Miller)?
In Tuesday's new episode, Michael attempts to find a way out of his Yemeni prison, while Linc takes a different approach to save his brother. In the midst of Ogygia's evacuation, Lincoln runs in, hoping he'll be able to get his brother free and they'll be able to leave the country.
See Also
Dominic Purcell and Wentworth Miller talk about their brotherly bond on and off camera, and returning to the Fox action thriller 'Prison Break'.
"Linc's found himself in a web of not trusting anyone or anything," Purcell says. "He's in Yemen and he's also trying to get to his brother. And he takes it upon himself to muscle up and get to his brother somehow…It's that Shakespearian buildup."
"I think [Prison Break creator] Paul Scheuring did a great job in ratcheting up that tension," adds Miller. "Because it's not just can they escape from the prison; the country itself is imploding while the escape is happening. So, can they also escape from the country itself?"
Watch an exclusive clip from Tuesday's episode now.
Prison Break, Tuesdays, 9/8c, Fox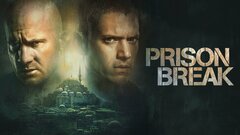 Powered by