7 Nods to the '70s in Netflix's 'Girlboss'
Girlboss, Netflix's latest original series, has arrived and it has been delivered in a colorful 70's candy-coated exterior. Britt Robertson plays Sophia, a rebellious spirit with a seriously retro aesthetic. Sophia is a girl after another decade's heart, making it easy to forget that her story is set in mid-2000s San Francisco.
Check out the seven nods to the '70s from the series premiere.
1. The Rebellious Sounds of the Female Rocker
As the opening credits roll, you are greeted by the recognizable Suzi Quatro anthem, "The Wild One." The show wastes no time informing us that Sophia is no shrinking violet.
2. Mile-High Platform Shoes
Like many women, Sophia's short stature is the reasoning behind an otherwise ridiculous choice in footwear.
See Also
'House of Cards,' 'Unbreakable Kimmy Schmidt,' 'Bloodline' and 'Master of None' all return with new episodes.
3. Shagadellic Hair-dos
This might be a bit of a stretch, because bangs and tousled tresses are nothing new in terms of style, but Sophia's not so prim and proper do is reminiscent of a Bohemian hippy. All Sophia needs to top off the look is a flower crown.
4. Annie's Go-Go Getup
Sophia's best friend is introduced when they meet up in a bar that lacks any sign of present times apart from the unusual musical act. Annie is sporting a checkered dress that would be the envy of any orange-loving, nightclub dancer, since she could pretty much pass as a go-go dancer herself.
5. The Stereotypical Bell-Bottom Pants
What is a '70s-inspired girl without the decade's biggest fashion statement? From denim to corduroy, this is one groovy chick.
6. Bohemian-Styled Digs
While Sophia may be scrambling to pay the rent, her simple apartment is a Bohemian's fantasy with gauzy curtains, large pillows and an overall chill vibe. No wonder she wants to work from home.
7. The "1970s East-West Calfskin Motorcycle Jacket"
This is the piece of clothing that Sophia is inspired by to start her online business, and it is no surprise to us. The vintage item is the physical embodiment of her '70s spirit.
Girlboss, Streaming, Netflix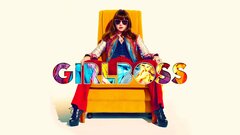 Powered by