Empire May Go on Tour Empire may go on tour
Fox says it's considering a tour like Glee did after its first two seasons. "There's no reason not to think of having all sorts of ancillary opportunities with this show," says Dana Walden, co-chair and co-CEO of Fox Television Group. "We're certainly thinking about idea of doing a live concert series." PLUS: Empire's ratings rise for the 7th straight week.
Report: Kardashians are signing a $100M deal to stay at E! for 4 more years
The deal excludes Bruce Jenner, who is leaving Keeping Up with the Kardashians for his own E! show.
Glee series finale will jump back to 2009 and forward to 2020
Jane Lynch revealed the jump in time, saying: "Everybody came. Everybody that was in the show who wanted to come was invited."
CSI aims to break the Guinness World Record for largest ever TV drama simulcast
On March 4, an April 2014 episode of "CSI" will be shown simultaneously in 150 countries. If it succeeds, "CSI" will break a record set by "Doctor Who."
2 crew members on NBC's Odyssey were attacked while filming in Morocco
A group of youths attacked a first assistant director and a make-up artist, resulting in their hospitalization.
The FBI tweeted a tribute to Parks and Rec's Burt Macklin
"Your ways were unconventional, but you'll be missed Macklin," tweeted the @fbi account.
Are America's Next Top Model contestants cursed?
Mirjana Puhar is the latest contestant with a tragic fate. PLUS: Detective investigating Puhar's murder is also a reality star.
Pimp My Ride wasn't all it was cracked up to be
In fact, a lot of the "pimping" was done for cosmetic purposes with many of the additions simply not working.
Modern Family's Apple Macbook episode was one of its most entertaining shows in years
The innovative episode was able to do something that's been rare this season — put the entire family on screen. PLUS: The episode highlights our modern way of connecting.
James Brolin joins CBS' Life in Pieces
He'll play the patriarch in a family comedy pilot, with Diane Weist as his wife and Colin Hanks, Thomas Sadoski and Betsy Brandt as their three children.
Conan tells Jon Stewart how he got into Cuba
Conan O'Brien promoted his Conan in Cuba show on The Daily Show, where he said it took him a while to actually enter the country. Stewart also revisited Conan's 1994 visit to The Jon Stewart Show.
Nick Nolte to play a former president of the United States in an Epix comedy
Graves, about an ex-POTUS who tries to right the wrongs from his time in office, would mark the cable channel's first series order.
Jimmy Fallon gets Ice-T to voice cartoon characters
Watch as the SVU star tackled Shaggy, Doc from G.I. Joe and Dora the Explorer.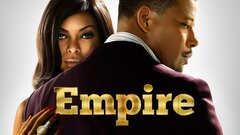 Empire
where to stream
Powered by