Roush Review: The Return of FX's Fantastic 'Fargo'
"Did I tell you what I like about this place, Minnesota?" muses a sinister British interloper by the name of V.M. Varga, played with a mirthful snaggle-toothed malice by David Thewlis. "It's so perfectly, sublimely bland, innit?"
One man's bland is another's bliss, don't ya know? That's certainly the case as the long-awaited third season of Noah Hawley's Emmy-winning Fargo franchise returns with its delicious recipe of quirky whimsy and chilling, shocking violence unaltered by time. (After ranking #1 on my Top TV lists of 2014 and 2015, Fargo sat last year out so the new season could be filmed, as always, in the deadest of winters.)
As visually flamboyant (from its unexpected opening shot onward) as its landscape is barren and mundane, Fargo revels in the unexpected, with cold winds of malevolence forever threatening the gentle, sheltered existence of its more decent characters. This season, the epicenter of calm civility, even when she's locked and loaded, is small-town police chief Gloria Burgle, played with wry understatement by the versatile Carrie Coon, who can also be seen in the final season of HBO's The Leftovers, airing concurrently.
"I think deep down we've all of us got something positive inside us, don't ya think?" Gloria opines to her distracted son in the opening episode. Of course, her path has yet to cross with the criminally compromised kooks who populate this season, set in the post-recession malaise of 2010. Farcical complications that one character describes as "unfathomable pinhead-ery" have a way of turning ugly and fatal in bizarre twists of fate. While Gloria is distracted by her local precinct being absorbed by the county police (and an unfriendly new boss), she may soon be glad for the extra help.
The big draw—and most sensational gimmick—of this season is the smart stunt-casting of Ewan McGregor in a dual role as warring and wildly dissimilar brothers Emmit and Ray Stussy, whose sibling rivalry escalates from petty grievance to grisly calamity. Emmit is the slick, smugly successful one, the "parking lot king of Minnesota" whose enterprise is corrupted by a million-dollar loan that backfires when the cadaverous Varga refuses repayment, instead co-opting the Stussy brand for his own as-yet-unclear criminal means.
Oblivious of this intrigue, Emmit's brother Ray (also McGregor) mopes around the periphery, a bitter, balding and bloated born loser of a parole officer who resents Emmit's success. Urged on by his sexy parolee girlfriend Nikki (BrainDead's Mary Elizabeth Winstead. a sizzling scene-stealer) to demand what's his, in the form of an unlikely heirloom, Ray's attempt at larcenous payback goes awry as only it can in Fargo-land.
A marvelous set piece of Hitchcockian suspense, in which a potential victim keeps being detained en route to a possibly grisly fate, ends the first episode on the kind of high note of humorous horror we've come to treasure on this show. As always with Fargo, you're never quite sure where the story will veer next, and with only two episodes available for preview, one can only imagine what shenanigans are in store.
RELATED: Sign up for TV Insider's Fargo Newsletter
So far, no one jumps off the screen quite the way Billy Bob Thornton and Martin Freeman did in the first season, or Jean Smart and Kirsten Dunst in the second installment, and Coon's crime-fighter isn't yet as developed as the heroes so memorably played by Allison Tolman (Season 1) and Patrick Wilson (Season 2), but it's still early days. If you've been waiting impatiently for a return trip to this twisted heartland, you won't be disappointed.
Fargo, Season Premiere, Wednesday, April 19, 10/9c, FX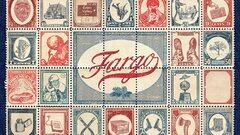 Powered by