What's On: A Deadly Midnight Hour Approaches in the Season Finale of '24: Legacy'
24: Legacy (8/7c, Fox): A violent showdown between Eric Carter (Corey Hawkins) and Tony Almeida (Carlos Bernard) sets off an eventful final hour of the terrorist-thriller reboot. The clock relentlessly ticks toward midnight as the villains prepare Rebecca (Miranda Otto) for a public execution, and her husband John (Jimmy Smits) stands guard over the intelligence creep who helped get them in this mess. The real cliffhanger, though, is whether Fox will renew this franchise and if 24 will see another day.
Bette Midler: Ol' Red Hair Is Back (9/8c, getTV): The Divine Miss M is back in the public spotlight, opening later this week in a splashy Broadway revival of Hello, Dolly! What better excuse to indulge in nostalgia for the long-neglected format of the music-variety special, epitomized by Midler's first TV special from 1977, an Emmy winner that features such signature tunes as "Boogie Woogie Bugle Boy" and "Friends"—and a special song, "Shoot the Breeze," accompanied by Dustin Hoffman on the piano (he co-wrote the song with her). Another classic special follows, pairing the two most legendary Hello, Dolly! stars: 1969's Carol Channing & Pearl Bailey on Broadway (10/9c), and the night is capped by a 1975 Cher episode (11/10c) in which Midler joins Cher and guest stars Elton John and Flip Wilson. Those really were the days.
Bates Motel (10/9c, A&E): Only two more episodes to go of this inspired variation on themes from Psycho, with Norman (Freddie Highmore) now almost completely possessed by the spirit of Norma (Vera Farmiga) as his legal problems pile up. If that wasn't enough, Romero (Nestor Carbonell) has finally found his way back to White Pine Bay, dead set on revenge. And we do mean dead. Just ask Chick.
Inside Monday TV: It's Disney night on ABC's Dancing With the Stars (8/7c), with couples dancing to songs from classic and contemporary movies, as recent as Moana, with star Auli'i Cravalho performing "How Far I'll Go," and including a number from the upcoming June release of Cars 3. Season 9 winner Donny Osmond returns to sing from Mulan. … CBS's 2 Broke Girls (9:30/8:30c) wraps its sixth season with the premiere of the movie about Caroline's (Beth Behrs) life. The show hasn't been renewed yet, and all things considered—like the fact it's been more annoying than funny for years—wouldn't this be an appropriate way to end it? … CBS has already renewed Scorpion (10/9c), which means another year of watching the team survive scrapes like being trapped inside a collapsing bio-dome.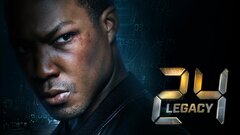 Powered by