CSI: Cyber and Patricia Arquette Explore the Internet's Dark Side
They're not trying to scare us. Really! CBS is all set to launch CSI: Cyber, the fourth series in the multibillion-dollar CSI franchise and a pulse-pumping trip into the world of Internet villainy. The program is fortuitously timed, what with the recent Sony hacking scandal and the growing fear that terrorists may one day use the "dark web" to attack electrical grids, water supplies, communication systems, and other critical infrastructure. And, these days, who among us doesn't worry about identity theft? CSI: Cyber is our future…but are we ready to welcome it into our homes every week?
"When it comes to cybercrime, there's a fine line between entertaining the audience and frightening them away, and we do not plan to cross it," says CSI mastermind Anthony Zuiker, who hit up against this problem when he pitched a similar series to CBS four years ago. "I went in and talked about how bad guys have the ability to look at us through the cameras on our laptops and how easy it is for them to steal our passwords and clean out our bank accounts–all of which was pretty new at the time. Then I watched [CBS Entertainment Chairman] Nina Tassler as the blood drained from her face. She was horrified."
While the network didn't see the enjoyment factor in such a series back then, it certainly does now. In fact, it considers Cyber the ideal way to reboot the now-waning CSI business and make it fresh, cool, and relevant again. Helping that happen is an intriguing cast headed up by Patricia Arquette, recent winner of the Academy Award for her role in Boyhood, and an Emmy winner for Medium. She is joined by James Van Der Beek (Don't Trust the B—- in Apartment 23), Peter MacNicol (24), and Shad Moss (also known as the rapper Bow Wow), plus up-and-comers Charley Koontz (Community) and Hayley Kiyoko (The Fosters).
"It's a warm, really appealing bunch–the perfect people to introduce you to the horrors of the Internet," says Zuiker with a laugh. Unlike his three previous CSI procedurals, Cyber will focus almost as much on its characters' personal lives as it does on the crime of the week. And it does get personal. Arquette plays Avery Ryan, a human-behavior expert and FBI special agent who is haunted by tragedy: Her career as a psychologist ended abruptly several years ago when a hacker broke into some of her private client files and made them public, leading one of her patients to commit suicide.
"Avery was shattered by the experience, but it catapulted her into chasing cybercriminals," says Arquette. "To this day, she hates to feel anything deep and personal and fears that, if she does, it will throw her off her game." On the show's soundstage in Los Angeles, the actress is shooting a scene in the season finale in which the hacker has resurfaced and by-the-books Avery appears to have gone rogue. "She comes to realize that her patients weren't the intended victims of this sadist," says Arquette. "He was out to get Avery, and now, all these years later, the beast has been riled again."
The angst doesn't stop there: Van Der Beek plays Avery's top gun, field agent Elijah Mundo, terrific at his job but an emotional mess over the failure of his marriage. Koontz's character, computer genius Daniel Krumitz, became an orphan years ago when his parents were murdered during a robbery–and now the killer is up for parole. Moss and Kiyoko play, respectively, Brody Nelson and Raven Ramirez, both former black-hat hackers who were able to avoid going to jail by joining up with Avery's good guys. "The Cyber team is here to save other people," Van Der Beek says. "But the truth is that this job is saving them."
Only MacNicol's character, assistant FBI director Simon Sifter, does not appear to be driven by a dark past. "I'm sure it's only a matter of time before some secret comes, but so far I am unsullied," says MacNicol, who can't claim that in real life. "One of the reasons I took this job is I was hacked. I had my identity stolen and money taken from my account, then a counterfeiting ring got hold of my name and started using my house as a mail drop." It took 14 months and the aid of the FBI and the Secret Service for the actor to get his life back to some semblance of normalcy. "There's no soft-pedaling the message of our show," MacNicol adds. "If you haven't already been hacked, chances are you will be."
Though CSI: Cyber may go global and address more epic forms of cyberterror if the series gets renewed, many of the first-season crimes are of the everyday variety–a suburban babynapping, a roller-coaster accident, a house fire triggered by an appliance–but each has a shocking web connection.
"Every time I get a new script, I'm like, "Whaaat? Criminals can seriously do that to us?'" Arquette says. "I'm constantly shaking my head about this brave new world." Some in the media have suggested that Cyber is dreadfully bad timing for the actress, now that she's winning so much acclaim for her movie work. But she insists they're dead wrong.
"It's just plain snobby," Arquette says. "Whose right is it to judge how anyone makes a living? The recognition for Boyhood has been a beautiful thing–something I never imagined would happen to me at age 46–but it's not like I'm turning down all these incredible movie offers." Besides, she adds, "I am thrilled to be on a series that will wake people up and give them practical ways to protect themselves. It's like we're doing a public service here–and how often does an actor get to say that?"
CSI: Cyber, Series premiere, Wednesday, March 4, 10/9c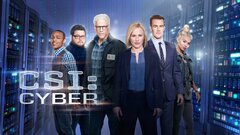 Powered by