What's Worth Watching: Secrets and Lies Aplenty
Secrets and Lies, "The Trail" and "The Father" (Sunday, March 1, 9/8c, ABC)
When the first shot you see is Ryan Phillippe full-out sprinting through the pouring rain, you suspect that something very bad has happened in the quaint neighborhood at the center of this new mystery soap. Then you see what he saw—the murdered body of 4-year-old Tommy Murlane, the son of his single-mom neighbor (Natalie Martinez)—and you know it. Spiraling out from that attention-getting opening, the stories of this suburban enclave are slowly revealed as Juliette Lewis shows up as prickly, off-putting Detective Andrea Cornell to investigate the case. Was it Phillipe's Ben? His soon-to-be ex (KaDee Strickland)? One has something to cover up, the other has something to protect. Ben's couch-surfing, lothario buddy (Dave Carlyle)? Or could it be any of the other locals, hiding their own secrets safely behind their white-picket fences?
By the end of tonight's two-hour premiere, I had my theories (keep an eye on the grieving mom's sister!) but fully expect them to be derailed by the twists that are surely hiding in the next eight episodes. Just mark my words, if they pull a stunt like The Killing and don't tell us who killed the kid by the finale, these people may have to deal with another homicide.
Maybe they've earned this levity, given the pressure everyone faced at the start of the season just to produce a coherent show, with very little time for conceptual lollygagging. "There was a lot of tension at the beginning," Black says, "but after we got on air, people at the network began to trust us more, and it felt a little more relaxed on set." A little? "There was a point during this season where we felt comfortable to do our own thing a bit more, because it was like, 'Huh! People like us!'" And those people have made this the most successful first-year drama since Desperate Housewives exactly a decade earlier.
But in the first year of any show, says Bakula (a veteran of Star Trek: Enterprise, Quantum Leap, and Men of a Certain Age, among many others), "you just never feel like you have your legs underneath you." He recounts the series' hurried history, which began with an embedded ­pilot that took the form of a two-parter on NCIS in spring 2014: "When we actually got the formal invitation that we were being picked up, it was the beginning of May, and then the scramble began to start shooting July 21. This place [in a New Orleans suburb] went from an empty soundstage to something we were shooting on in five weeks. The first day of shooting, they'd barely sealed the paint on the walls and hadn't hung any lights.
"We're not all in the same place, either," he continues, "so there are so many reasons why it should have been a disaster." He's talking about how Glasberg and the writing staff stayed in Los Angeles–and so, in a way, did Bakula, who flew home every weekend, not wanting to uproot his family just as his son was entering high school. Somehow, Bakula also flew to San Francisco a few times to shoot three episodes of HBO's Looking, fulfilling his promise to wrap up a supporting role on that niche drama's second season even as he was anchoring TV's hottest new mainstream show. But that shoulda-been disastrousness "hasn't been," he says. "And because they picked us up so early, all our directors are lined up for next year, so invariably it's going to be an easier process." Not the big easy, mind you–since, Bakula says, "they keep making the episodes bigger and harder to do"–but easier.
First, there's a freshman season to wrap. Back on the soundstage, Bakula is shooting a scene for the penultimate episode with Steven Weber (Wings), who has a recurring role as a presumably corrupt city councilman whose unctuousness can be measured by his insistence on wearing sharp suits even in the harshest humidity. You can see the familiarity between these TV pros when they both flub their lines and Bakula quips, "Together, we almost add up to one actor."
Their characters are discussing the city-rattling repercussions of violence perpetrated by Baitfish, a villain who's been Special Agent Dwayne Pride's bête noire throughout the season. No spoilers here, but suffice it to say that Baitfish's mayhem is the focus of the May 5 ­episode, which opens the door to an even wider world of crime involving the New Orleans seaport in the May 12 finale. Weber's politician and Bakula's determined Pride are going at it over who's to blame for some very public casualties, before Weber finally lowers his voice and says, "No matter what you think of me, I love this city too." Which may be setting Weber up to be more sympathetic in Season 2, because, really, how can anyone crush so hard on NOLA and be all creep?
Just as the medical profession's primary dictum is "First, do no harm," this show's initial mission was: Don't tick off the host city. By that measure, too, the series has been a smashing success–even if everyone you run into in New Orleans will eagerly tell you, unprompted, which actors get the accents right.
"Everybody thinks I'm faking it," says Black (Special Agent Christopher LaSalle), the lone primary cast member with a real-life Southern twang, thanks to his upbringing in nearby Alabama. "I've worked on this accent for 32 years. I feel like I've finally got it down pat. It's a struggle, what we go through as actors." Another thing he doesn't actually struggle with: "I love the steaming heat, and I get to laugh at everybody who doesn't."
Pounder, who plays coroner Loretta Wade, had a tougher time adjusting, even though she's gradually shifting her home base from L.A. to New Orleans. "I have to have faith that if the first [NCIS] show has been running for 12 years, maybe the second show [NCIS: Los Angeles] will run for eight years, and maybe this show will run for six or seven." But, she adds, "I'm a Caribbean person, and this is a Caribbean country, stuck in America. Well, not stuck–happily hanging out in America–and therefore it has all the problems that that has: The heat come summertime is hellish, and that's when we start our [production] season. I'm hoping to drop enough weight so that the water's not just pouring out of me like it did last year, when I thought, 'I'm going to die.'"
Northeast native Kerkovich arrived at an analogy for the city after first visiting (and feeling out of place on) legendarily rowdy Bourbon Street: "A local reporter asked me, 'What do you think about New Orleans?' I said. 'It's like Bartertown,' from Mad Max Beyond Thunderdome, which couldn't be more obscure, because Bartertown isn't even in the title of the movie. I thought, 'This interview has tanked. I referenced the third Mad Max ­movie?'" (Yes, the resident forensic scientist is at least as ready with the pop cultural references off screen as on.) "But it's cool to not be in the L.A./Hollywood world. Here you can go into a coffee shop and not every single person is working on a screenplay. They're all on their laptops writing jazz."
Bakula, who's developed a list of favorite local nightspots despite spending his weekends in L.A., laughs when he's reminded how he initially hoped the series could be filmed in Hollywood. "There's a huge commitment to trying to do it correctly here," he says. "I've lived in a lot of great cities in the United States, but this one's unique in that people are always saying to me, 'We love what you're doing here. How are you liking my city?' There's this possessiveness about it. You don't usually hear people say, 'How are you loving my Santa Monica?' I love how the people do things outside their homes here, which is kind of counter to the world that's becoming more like, 'How can I watch a movie in my house?'"
Not that anyone at this photo shoot wants to discourage NCIS: NOLA binge-watching, although it can lead viewers to mistake the actors for their characters, which they still find amusing. McLellan recalls an exchange she had with a local on Frenchmen Street. "My sister and I went out to hear music," she says, "and as I go up to the bar to get a drink, this college girl is standing there and is like [affects thick Louisiana accent], 'Brody, oh my God, hi! Is Pride with you?' I said no. She said, 'Good, because I'd do him right here.'"
Perhaps they need to throw in even more morgue scenes, then? Because while this show may be big, it probably shouldn't feel that easy.
NCIS: New Orleans, Season finale, Tuesday, May 12, 9/10c, CBS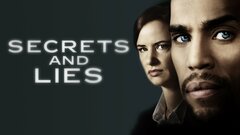 Powered by