'Better Call Saul' Season 3: Bob Odenkirk Says Jimmy Shares More Screen Time With …
By now, you know: This is the Better Call Saul season that life (well, and his own iffy choices) pushes Bob Odenkirk's goofy, loyal, loving Jimmy McGill to the brink of Goodman. And while Odenkirk admits he knows that plenty of Saul fans are itching to see Jimmy rebrand himself as Breaking Bad shyster Saul Goodman, he says he'll miss Jimmy's heart-on-his-sleeve ways.
"I say, 'Really? You want to say goodbye to this sweetheart fellow named Jimmy McGill?!'" Odenkirk jokes. "But it's what we promised—and it's also sad. It makes me sad to see this guy cutting himself off from the better parts of himself; I feel bad when I see the character making Saul Goodman choices. But one thing I would say is that I don't think he completely loses his humanity in this transformation. I would remark that there are scenes in Breaking Bad where Saul—without explanation—shows some real sympathy and humanity and a little more depth than most of the time."
Odenkirk says Saul Season 3 is further testament to the storytelling process of Bad and Saul creator Vince Gilligan and Gilligan's producing and writing partner Peter Gould.
See Also
Creators Vince Gilligan and Peter Gould share their thoughts on Better Call Saul Season 3. Plus an exclusive look at Season 2 DVD extras.
"The challenge is that we've already met Saul Goodman in Breaking Bad, and while Peter and Vince needed and wanted to find more depth to the character, what they found couldn't contradict what we already established. They did a supremely amazing job of that, which is creating a character who is in so many ways vastly different from Saul Goodman.
"Jimmy's a sympathetic guy. He's a person with human feelings and he's a person with desires beyond making money and using everyone around him—which is Saul Goodman—but yet he marries up with the character that we saw, in numerous ways."
Season 3 also allows Gould and Gilligan to further color and shade the backstories of other Breaking Bad favorites, including celebrated new arrival Gus Fring (Giancarlo Esposito) and his entry into the Salamancas' world.
"Gus and Hector, you're going to get to learn more about them and what went on between them, and it will all make Breaking Bad even more impactful than it was, because as you start to understand the backstory of the characters—not just Saul but these other characters and how it affects the world of Breaking Bad—it's really cool," says Odenkirk who hints that other Bad characters will appear in the not-too-distant future, too.
See Also
The Season 3 return of 'Better Call Saul' explores Jimmy's new moral dilemma and the return of 'Breaking Bad' foe Gus Fring.
And while Jimmy himself won't spend much screen time with Fring for a bit, Odenkirk says his interactions with Jonathan Banks' Mike Ehrmantraut—a highlight of Saul Season 1—are back on the upswing.
"Banks is one of the great actors I've ever worked with and such a solid presence, such a powerful presence—onscreen and offscreen," he says. "This is what Vince Gilligan and Peter Gould do. They take a character who is fun to watch, in the case of Mike or Saul Goodman, and then they add depth to them that you never saw coming, but that makes psychological sense.
"Here's Mike, and he's such a shutdown hard-ass who's only got any softness in his heart for his granddaughter. That's the only thing in his world that can hurt him, and we discover the backstory in that wonderful episode from the first season, the sixth episode that's all Mike.
"I can't wait to see Jimmy and Mike together more," Odenkirk continues, "and that's happening in the third season and will happen even more as we proceed. I can't be onscreen enough with Jonathan Banks. I come from comedy, and Season 3 has more of that than Season 2 did. It has more of the comic moments and scenes and scenarios and I just love that stuff. It's where I started in show business, and it's what I feel massively comfortable with and happy with."
RELATED: Subscribe to TV Insider's Better Call Saul Newsletter
And if you're hopeful that Saul won't end when he seemingly inevitably crosses paths with Walter White, Odenkirk says you may be right on the money.
"We've met Gene, who Saul becomes after Breaking Bad, and as you've seen in the first two seasons, we've spent some time with him, so I wouldn't be surprised if these writers take the story even past Breaking Bad," he says. "It could go to a whole new place, yet another iteration of the character and a whole new universe. Because Saul is Gene now and he's working in the Cinnabon—but in the right mix of circumstances he could reconstitute himself as who knows what. Your neighbor."
Better Call Saul, Season 3 premiere, Monday, April 10, 10/9c, AMC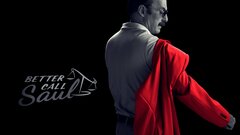 Powered by