E! News' Maria Menounos on Her WWE Passion
Maria Menounos is known for her work as a television and podcast host, entrepreneur, best-selling author, actress and pretty much everything in between.
But the E! personality is also an unabashed WWE fanatic. So it's always a thrill for the lifelong enthusiast to use her skillset working for the company. Menounos was most recently in Orlando for last Sunday's WrestleMania 33, where she cohosted the Hall of Fame red carpet and helped out in the social media lounge on the big event's Kickoff Show.
See Also
Roman Reigns defeats The Undertaker to mark the end of an era at WWE's WrestleMania 33. Show brings Hardy Boyz shocking return, Brock Lesnar dethroning Goldberg, John Cena and Nikki Bella getting engaged and more history-making moments.
In between the two gigs, she also participated in a Project: OM yoga event. Project: OM is a partnership between Susan G. Komen and Manduka to bring together one million yoga participants on Mother's Day weekend to promote health and wellness and raise money in support of Susan G. Komen's Bold Goal of reducing breast cancer deaths by 50 percent in the U.S. by 2026.
"I love WWE. It's like another home for me," said Menounos, who joined superstars Natalya, Titus O'Neil and ambassador Dana Warrior for the yoga session led by Diamond Dallas Page and his team from DDP Yoga at Full Sail Live in Winter Park, Fla.
"So I love coming home and being a part of everything I can be. Sometimes I look at the schedule and say, 'Wow, I'm super booked.' But it means so much to me, and it means so much to be part of events that are giving back, especially ones where we are trying to get people to take control of their health. I think it's an important thing to do. This is my first time doing DDP Yoga. It was amazing."
A highlight for Menounos was seeing Beth Phoenix inducted into the WWE Hall of Fame. At WrestleMania 28, it was the celebrity who scored the victory for her team on Phoenix. It's a moment she will never forget.
"I was honored to be there for Beth, and I was honored knowing she and I shared a match at WrestleMania," Menounos said.
"I can't believe I can say that out loud. I posted my final pin on her on Instagram. That was so surreal. She is one of the greatest of all time, and she let me pin her. She is incredible. When Beth got the call about her induction the only two people she initially told was Natalya and I. I just felt so honored."
Over the course of WrestleMania weekend, Menounos ran into other former champions in Kelly Kelly and Eve Torres. She doesn't rule out another match.
"Always, I always want to get in the ring," she said. Although Keven [Undergaro] and I have been trying to do the baby thing for a little while. At some point, if it doesn't work, then maybe I'll be back. The girls are so good today. It's so hard to imagine jumping back in, but I would love it. Being in there is one of my proudest accomplishments."
Looking at the evolution of women's wrestling, Menounos is excited to see the role within the ladies of WWE grow to on a competitive level.
"It really is incredible," she said. "I remember going to WrestleMania, and it was such a big deal to be highlighted. Now you are seeing these women up on the marquee. It's super awesome…I'm a fan of everyone. I love Bayley's story. I'm super obsessed with her right now. It's hard to pick one favorite out though. They are all so amazing. I do think Bayley is adorable."
See Also
Alexa Bliss on what it's like being WWE Women's Champion on SmackDown Live, battling an eating disorder growing up, WrestleMania 33 and more.
Menounos' connection to WWE goes just beyond herself. AfterBuzz TV, an online broadcast network founded by herself and Undergaro, has given a number of individuals the platform to grow and even get noticed by WWE. Among them is Cathy Kelley, who used to be part of the AfterBuzz's Monday Night Raw and NXT recap shows before getting signed.
"I'm super proud of her and all of our former After Buzzers who are in WWE," said Menounos. "Smiley [producer Ryan Katz], Daria [Berenato, current NXT superstar] and so on. We are really proud that at AfterBuzz we are able to help jumpstart careers for them and allow them to realize their dream. It's an exciting thing."
Menounos is a proud member of the WWE Universe and knows she isn't alone within the entertainment industry.
"I feel like I see so many of them at WWE events, so nobody really surprises me," she said. "[At] WrestleMania, I'm pretty sure I saw Mark Wahlberg front row with his kids. If it wasn't WrestleMania, it's another show. It's all across the board. Wrestling has really crossed over and become so mainstream. So I'm not really surprised who we see there."
Catch Maria Menounos on E! News, Weekdays, 7/6c and 11/10c, E!
WWE Monday Night Raw, Mondays, 8/7c, USA Network
WWE SmackDown Live, Tuesdays, 8/7c, USA Network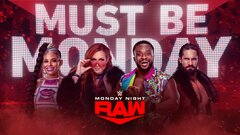 WWE Raw
where to stream
Powered by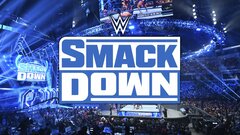 Powered by