'Grey's Anatomy': Kelly McCreary Breaks Down Maggie's Emotional Loss
[Spoiler Alert: Read ahead only if you've watched this week's episode of Grey's Anatomy. Major plot points discussed below. You've been warned.]
Pass the tissues because that was an emotional episode of Grey's Anatomy for the record books. While the long-running medical drama deals with death all the time, saying goodbye to Diane Pierce (LaTanya Richardson Jackson), the mother to Dr. Maggie Pierce (Kelly McCreary) hit close to home.
The mother-daughter relationship had its rough patches like all parent-child relationships but once Diane knew her days were numbered due to cancer, it set up some great scenes between the two actors that only made the time when Diane checked out of this world that much more powerful.
McCreary talked to TV Insider about this particular episode, the challenges for Maggie when torn between being a doctor and a daughter and that final lasagna scene.
Grey's throws a lot at you all every week but was this one a little tougher than the normal episode for you to shoot?
Kelly McCreary: It was only tougher in terms of the hours you know I was in more scenes so I worked a lot more but I love when I get to play a really great scene with really great actors and this episode was just all of that. But it was a joy and it really was an exhilarating wonderful experience. I think it's a great honor to be able to tell a story that a lot of people in the audience and people who are right there on set with you can relate to. You have this duty just to strip away even more of the ego than you normally have to do in your own job and more of the artifice to get to that truth that really resonates with people and I think it's, I was honored to have that kind of challenge.
See Also
Plus, can Owen and Amelia patch up their issues or is it time to move on? The actors weighed in!
How did you go about paying the element of Maggie where part of her is a daughter and part of her is a surgeon and she's really pulled in two different directions?
I thought and read a lot about that actually, the blogs and stuff about people who are caring for their sick parents and the role reversal that takes place in that and it seems to happen very naturally. You rise to the occasion, you rise to the challenge and I think that this episode has this great arc in which Maggie is authoritative and in charge at first and once she's able to actually come to terms with losing her mother, she get to do that before her mothers passes and then she gets to be the daughter again. They get to go back to their natural relationship and it's healing for them. I think it's nice for the audience to see what Maggie was like before we ever met her, what she's like with her mom. It was great to be able to play both of those sides.
Maggie turns away a few people who she could lean on but then she lets Riggs embrace her. Why do you think she let Riggs in?
That scene comes after Maggie has fully lost it with Meredith and Nathan witnessed that and Maggie's mother tells her that she doesn't want to continue treatment and she's facing the reality of losing her mom and the way she's been in denial of that for the whole episode prior to that. So he gets her just at that tipping point, that absolute moment of completely broken down vulnerability. And he doesn't tell her what to do, too. He knows. Everyone else is sort of trying to tell her what to do and openly disagreeing with her. And he just doesn't say anything and I think that counts for a lot in enabling her to finally quit holding onto the emotions she's been trying to keep inside.
What can you say about Maggie's relationship with Dr. Weber moving forward because he tries to comfort her and she rejects him?
Yeah, in pushing him away, it's the first time that she actually sort of displaces him as her father. Since she's gotten to the hospital, once they get over that initial hump, she's been really open to having a relationship with him. They have fun and they have a lot in common and they have a really close relationship. I think that that moment when suddenly Richard has the realization that she has this, she was raised with another father. There's another person in her life who she considers her father and it comes as a shock.
I don't think Maggie is conscious in that moment of displacing Richard but it's clearly something that has never come up that way before. It will be interesting to see if we investigate how Maggie's relationship with the father who raised her is different than with Richard.
RELATED: Sign up for TV Insider's Grey's Anatomy Newsletter
Tell me about working with LaTanya Richardson Jackson. Your scenes were so compelling to watch in this episode.
Thanks. LaTanya is awesome. She was so much fun to have around set and so full of great stories and wisdom and like the way that she would think about the scenes, she had so much insight to offer and we had a really good time. We had a relationship, I really did make a new friend in working with her and that's always such a treat. She's open and loving and kind and generous and just absolutely the most wonderful cast addition you could imagine.
That very last scene where you and Meredith and Amelia are just eating the lasagna. Is that a tougher scene to shoot because there really wasn't dialogue, but there's definitely a mood and emotion that is conveyed?
No, all the same stuff is at play. You are alive in the emotional life of your character whether you have words to say or not. My eyes stung from staring for a while [Laughs] but other than that it wasn't hard.
Grey's Anatomy, Thursdays, 8/7c, ABC.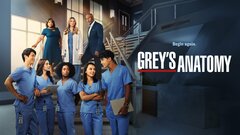 Powered by