7 Things to Know For NBA All-Star Weekend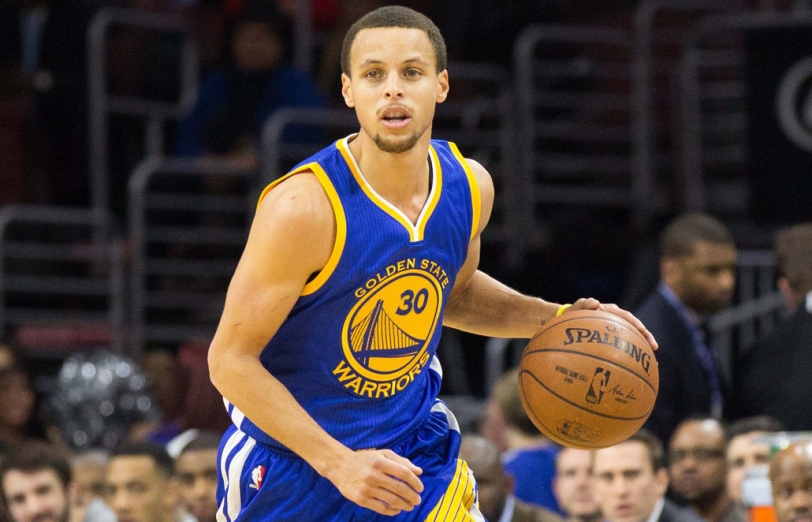 You know it's a time of transition for the NBA All-Star Game when LeBron James comes in second in the balloting to a player who made his first All-Star team just last year. The new king of the court, at least by the measure of All-Star voting, is Stephen Curry, the sharp-shooting guard for the Golden State Warriors, the top-seeded team in the western conference. Curry, along with 23 other high-flying competitors, will step onto the hardwood Sunday at Madison Square Garden in New York City for the 64th annual All-Star Game.
If you can't make it to Manhattan, the game will air live at 8:30/7:30c on TNT and TBS (with streaming available to cable subscribers.) "This year we are seeing new faces," says TNT analyst and former All-Star Grant Hill, citing Kings center DeMarcus Cousins, Warriors guard Klay Thompson, Raptors guard Kyle Lowry and Hawks guard Jeff Teague. "These are some of the young and up-and-coming players who have the chance to be in that upper echelon category. That is the consistent thing about the NBA, the changing of the guard."
For more on this celebration of all things basketball, we spoke to Hill's TNT colleagues, analyst Reggie Miller and legendary play-by-play guru Marv Albert, about what viewers can expect this weekend when the NBA's best converge in one city.
It's more than okay to be fashionably late to an All-Star Game.
You may miss an amazing alley-oop or deep three-pointer if you skip the start of the game, but unlike the MLB All-Star game, where World Series home-field advantage is at stake, the true competition for NBA All Stars doesn't start until way after halftime. "The real game isn't really played until maybe the start of the fourth quarter," says Miller. "A lot of times, it's bragging rights. 'Our conference is better than your conference'." But prize money also becomes a motivator: $50,000 for each player on the winning team, $25,000 for each losing player.
Damian Lillard will play like a man possessed (or at least, initially snubbed).
After making the All-Star team last year, Lillard found himself off the starter and reserves lists for 2015; as a result, he declined to participate in any other All-Star Weekend contests. But now that NBA commissioner Adam Silver has selected the Portland Trailblazers guard to replace the injured Blake Griffin (L.A. Clippers), no doubt Lillard will be on a mission to show everyone that his skills are second to none.
There will be more than a little ribbing of the West's coach, Steve Kerr of the Golden State Warriors, from TNT's broadcast team.
"We always get terrific cooperation from the coaches, but Steve Kerr is so difficult to deal with. It creates a great deal of tension and that's a worry to all of us," says Albert, who will be calling his 20th All-Star game. Yes, he's just having a little fun with his former TNT colleague Kerr, who, thanks to Golden State's number one record in the west, has the honor of coaching that conference's All-Stars in just his first year at the helm. Miller reports that Kerr "is excited. Think about this—he's gone from sitting next to Marv Albert and goofing around with me to being a rookie head coach as well as the All-Star head coach. I mean he's just loving life right now. Can life get any better?" (Well … keep reading.)
Coaching an All-Star team is a thankless task.
This year, the unenviable juggling act of managing playing time goes to Kerr and Atlanta Hawks coach Mike Budenholzer. "You're gonna have to delegate minutes and you're going to piss off some people," Miller says. "The players that were voted in by the fans will get the bulk of the minutes. And then you have older players, like Tim Duncan, who doesn't wanna play 20 minutes. He'll go to Steve and say, 'Hey, just give me five or 10 minutes and then just sit me down.' And this is what every coach will do because you have the game blocked out minutes-wise and you delegate it to your assistants, and then come fourth quarter you bring your starters back and hopefully you have the game."
The Foot Locker Three-Point Contest could be the most competitive event of the weekend.
Miller calls this the highlight of All-Star Saturday Night (8:30/7:30c on TNT). Eight of the league's best shooters are competing, including 2013 winner Kyrie Irving (Cleveland Cavaliers) and last year's champ, Marco Belinelli (San Antonio Spurs). Also taking part are league-scoring leader James Harden (Houston Rockets); Stephen Curry, the fastest player in NBA history to drill 1,000 3-balls; and the Atlanta Hawk's Kyle Korver, who currently holds the highest three-point percentage (53.2 percent) this season. But believe it or not, Miller has his sights on someone else as the eventual victor: "I think Wes Matthews [from the Portland Trailblazers]. If I'm asking for one shot to win a game, yeah, I'm gonna go with Korver or Curry, but it's different when you gotta pick the balls out of the rack."
2014's No. 1 draft pick, Andrew Wiggins, was actually born in Canada.
This is only relevant because of the format change in the BBVA Compass Rising Stars Challenge (Friday, Feb. 13, 9/8 c, TNT). In previous years, this competition has featured top-notch NBA rookies and "seasoned" second-year players in a battle of youthful energy and showmanship. But this time the NBA has dubbed it "USA vs. World." That means freshmen and sophomores will be combined, with Americans facing off against international players anchored by Wiggins (Minnesota Timberwolves). "It'll be interesting when [viewers] see the roster," says Miller. "It's kind of a great history lesson for people."
If you're an NBA player in New York City and there isn't any real competition on the line, you're going to enjoy yourself during All-Star Weekend.
Pretty much the only events not being broadcast this weekend are parties hosted by the likes of Nike (Brand Jordan), the NBA Players Association and TNT. "And then, individually, guys throw parties as well," says Miller, who mentions the annual soiree from his TNT colleague Kenny Smith (Inside The NBA) and a possible get-together from LeBron James. "Word of mouth will obviously spread and you want to be part of that clique of the cool kids that go to the Jordan party or the LeBron party and get in. It's a scene."
Yeah, but does anybody invite Old Man Miller anymore? "Please," says Miller with a wry laugh. "I stick to what I know, which will be the Turner party. I'll be able to get in there."