We See Dead Children: How Kids in Danger Became TV's Go-To Story
If Nationwide hoped to make noise with its Super Bowl commercial "Make Safe Happen," the insurance company scored a touchdown. The spot – which opened with a lighthearted, guitar riff – shocked audiences by taking a stunning and morbid turn.
The ad features a young boy as he laments in voice-over all the things he'll never do – "get cooties," "travel the world with my best friend," or "get married." He then explains, "I couldn't grow up… because I died in an accident." Images flash on screen suggesting ways children can be killed inside a house, including drowning in a bathtub, being crushed by a big-screen TV, and drinking bleach.
Viewers criticized the ad on social media, flabbergasted that Nationwide would make a deceased child the centerpiece of a Super Bowl commercial (for which the company paid as much as $4.5 million to air). A mocking #BecauseIDied even became a trending topic on Twitter.
The Nationwide spot might have been a better fit with the rest of primetime, where kids in peril have become a staple. There's currently a barrage of TV shows that deal with the death, disappearance or illness of a child, and the impact on their families.
The beginning of this trend might be traced to AMC's The Killing, about the investigation into the murder of a 17-year-old girl, in 2001.
BBC America's Broadchurch and its Fox remake, Gracepoint, focused on the murder of a small-town boy. (Gracepoint was canceled due to low ratings, but Season 2 of Broadchurch, premiering March 4, deals in part on the killer's trial). The Missing, recently renewed by Starz for a second season, tells the story of an estranged couple looking for their young sun, who disappeared eight years earlier. ABC's Secrets and Lies, premiering March 1, stars Ryan Phillippe as a family man suspected of killing his neighbor's kid.
On HBO's The Leftovers (returning later this year), Carrie Coon plays a woman mourning her husband and children, who vanished in a Rapture-like event. Both ABC's Resurrection and A&E's remake of French thriller The Returned (debuting March 9), feature parents coping with the death several years ago of a child – and now coping with their return from the grave. Showtime's period thriller Penny Dreadful stars Timothy Dalton as an explorer on a quest, in the show's first season, to find his missing daughter. Also coming up is ABC's The Whispers (from Steven Spielberg's Amblin TV), in which children are befriended by a mysterious, evil force.
Programmers acknowledge that they are aiming to hit the audience's heartstrings. "What's more gut wrenching than the loss of a child?" says Barry Jossen, executive vice president of A+E Studios, which coproduces the U.S. version of The Returned. "Whether you're a parent or not, everyone can relate to that…TV is about emotion. We want people to feel something."
Tom Shankland, director of The Missing, says he almost didn't take the job because of the subject matter. "I'm not a parent, but I completely empathize and appreciate that [watching our show] is just a more pointed emotional experience if you've got kids," says Shankland, who nonetheless says he was drawn to the story of how the loss of a child impacts the parents' relationship. "It taps into such a primal terror. It's something that I almost feel guilty inflicting that on viewers. When I first got involved in the project, that exact concern was my anxiety. I had some hesitancy about getting involved."
But Shankland says he realized the conceit of a missing boy was just the jumping-off point to explore the deep emotions and shattered relationships that come in the wake of his disappearance. In other words, it made for good drama. "It's about the repercussions on a whole ensemble of characters over a eight- or nine-year period," he says. "People are dissecting the despair of the parents, but it also is used a dramatic device to explore the tensions and secrets in their relationship. The pressure of [their child's disappearance] makes them deal with some things about each other that had been long buried… it's an effective dramatic device."
Shankland also points out that several high-profile child disappearances over the past decade may have also inspired writers. The Missing is a bit reminiscent of the real-life 2007 disappearance in Portugal of British child Madeline McCann, which made international headlines.
"I think it there is a case of art imitating life," he says. "Kids being abducted or kids disappearing mysteriously, I'm sure a lot of writers and broadcasters are getting their imagination stoked by these cases."
Rina Mimoun – executive producer of Red Band Society, the now-canceled Fox drama (also an Amblin show) about sick kids bonding at a hospital – previously worked on Dawson's Creek and Everwood, two shows that mined plenty of tears. But, she is quick to add, "we never went as far as to have a child die. We never would gave done it."
But now, "it feels like there were a ton of pilots [in recent years] that started with the death of a child or a missing child that turned out to be dead., I even wrote one the year before, based on a book. It's stuff I would have never thought America was interested in seeing."
Mimoun says dark, tear-inducing storylines are now a way to elicit an emotional response from audiences who have become increasingly numb to most dramatic plots, due to the prevalence of real-life horrors, images of which can now be accessed easily via websites like YouTube.
"It's getting very difficult to write [dramas]," she says. "We're just so much more aware of atrocities happening on either a global scale or even when you're just reading about [issues like] school bullying," she says. "Some of these things we used to not be so constantly aware of on a minute-by-minute basis. Now, when you're trying to create fictionalized drama for a network TV show, you have to reach so much further. Because people are inundated with real tragedy, which they're seeking out."
Mimoun joined Red Band Society after the pilot, and calls the show – which eventually was pulled due to low ratings – "an interesting experiment…It did surprise me that everyone assumed that viewers were going to embrace it. This is a really challenging subject matter. In order to keep these kids in the hospital they have to be really sick. It's hard, and the ratings reflected that."
Jossen also has another theory: Many of the producers creating these series and the executives buying them are parents, and these shows represent their worst nightmare. "Writers like to write from their own experience," he says.
Most of these dramas have earned positive reviews from critics. And some of the shows, like The Killing and The Returned, are American adaptations of highly-rated imports, which gave them an edge with the execs who ordered them. But perhaps the Nationwide outcry is a sign that viewers can only take so much of such downbeat subject matter.
"I miss a good dramedy," Mimoun says. "I'm hoping the one-hour shows start to move back in that direction. I do feel we've pushed a boundary as far as what I'm personally interested in seeing. I don't know how much further it can go."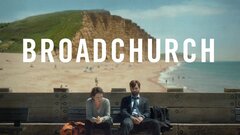 Powered by