The Jack and Triumph Show Gets a New Leash on Life
For nearly two decades, Triumph the Insult Comic Dog has been the foul-mouthed puppet who mercilessly mocks those who dare to cross his four-legged path in short comedy segments that began on NBC's Late Night With Conan O'Brien and continue on TBS's Conan. Over the years, Robert Smigel, Triumph's creator (and voice), had been approached with longer-form opportunities, but he didn't see the character's full potential until teaming up with Jack McBrayer (30 Rock) for a 2012 Conan sketch set at the Wiener's Circle, a notorious Chicago hot dog stand known for its surly staff.
McBrayer is the perfect sitcom foil for the obnoxious Triumph, says Smigel, "because he's the genuine article in terms of appearing to be innocent." The resulting series, The Jack and Triumph Show, airing on Cartoon Network's Adult Swim block, stars the pair and Oscar-nominated June Squibb (Nebraska) as washed-up actors from an old Lassie-like TV series.
In his new surroundings, Triumph will reveal a tiny–and we do mean tiny–bit of heart. "Triumph genuinely loves Jack and wants what's best for him," says Smigel. "I'd like him to have as much depth as, say, a Seinfeld character–no more than that. You find them interesting, but you don't want to see them reveal their sad-clown side."
The series will also break the fourth wall, frequently acknowledging the studio audience and the sitcom-taping process. And each episode will feature Triumph's signature dog-in-the-street pieces. But the twist is that elements from the remote segments will be incorporated into the fictional storyline. To wit, in the premiere, a real-life fan that Triumph humiliated at an autograph signing at New York Comic Con ends up in a scripted scene playing poker with the pooch and friends. But just because there's a script, guest stars–such as Joey Fatone, Maury Povich, Paul Rudd, and Christopher Meloni–shouldn't feel safe from Triumph's unpredictable wrath. "Sometimes Triumph [will] improvise on set," Smigel says. "The guests don't always know what jokes are coming."
The Jack and Triumph Show, Series premiere, Friday, Feb. 20, 11:30/10:30c, Adult Swim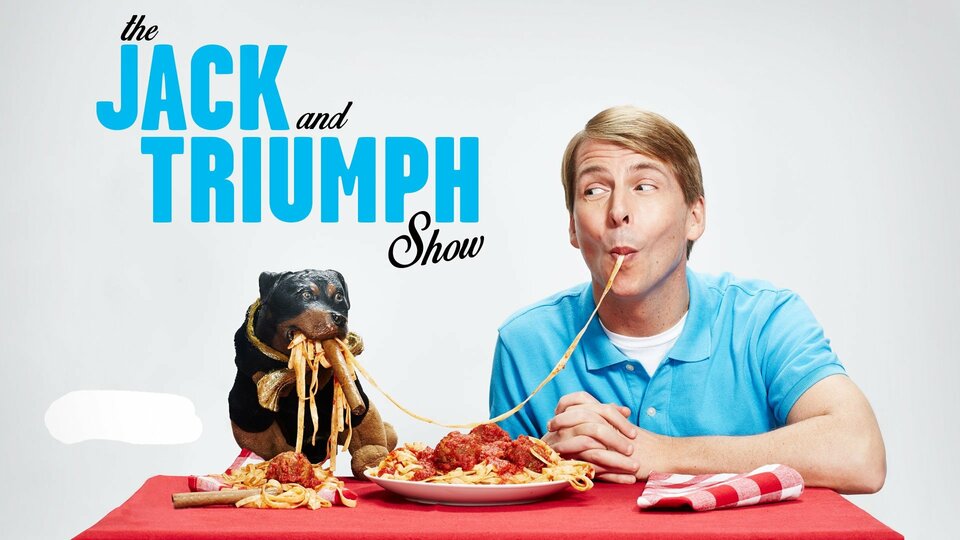 Powered by