Yasss King! Eliot's Musical Moment and the Secret Weapon of 'The Magicians'
There must be something in the TV water this week. In addition to The Flash–Supergirl musical episode, The Magicians is also getting a tune-up as Eliot (Hale Appleman) prepares to battle the King of Loria. With the help of a spell, a huge sword and his support staff—including bestie Queen Margo (Summer Bishil), wife-of-convenience Fen (Brittany Curran) and royal advisor Tick Pickwick (Rizwan Maji)—the sexually adventurous High King of Fillory leads the charge with an enchanting rendition of "One Day More" from Les Miserables that so exemplifies the fearless creativity of this series to a T…or at least a high C. Here, Appleman opens up about Eliot's big number and even bigger steps forward this season.
I need to go back to, I think, the first episode of the season when Quentin said goodbye to Eliot before leaving him in Fillory. You and Jason Ralph killed it, it was so lovely.
Thank you. Truly, I appreciate that. And I think it was an opportunity to show the depth of their connections that you don't always see. I think it's sort of inherent and understood that sometimes, you just know someone, that sometimes you kind of have an instant understanding of someone which I think Eliot has with Quentin. But it's hard to show that with characters who aren't necessarily the most expressive when it comes to emotional vulnerability.
See Also
The actress talks to TV Insider about Wednesday night's surprising episode.
Like Margo (Summer Bishil) stepping up last week to handle things while you were "dead." You guys are all growing up.
I know, right! And Summer's so fantastic and I've always said she's the secret weapon of the show. People didn't really see her coming until the end of last season so it's really great to see her get some more stuff to do. I really hope that that only continues for her. She's a real powerhouse and I really, I just think she's an amazing actress.
It's been so nice to watch Eliot go from the Brakebills quipmaster making drinks to the High King who is willing to put his life on the line to save these people.
It has been a really long journey for him. And I've said this before, but to me, what's sort of most important about this episode and, maybe perhaps his whole arc this season, is that it's about him being willing to take on his responsibilities and also take on his own kind of a latent heroism that's in there somewhere. While he would love to be the center of attention, Eliot doesn't necessarily want to think of himself as a hero. He more probably wants to escape from the call of action. And that's really shifting in him.
I know it's a prop sword but it's pretty damn big piece of equipment you are swinging during the big battle.
I had to learn that pretty fast, too! I had about a week and a half, they had scheduled two or three sessions for me to train and I said, 'No, I'm gonna need more than that.' And luckily, I was dead during that episode so I got a few more in. [Laughs]
THE MAGICIANS — "Lesser Evils" Episode 209 — Pictured: (L-R) Sergio Osuna as Rafe, Hale Appleman as Eliot — (Photo by: Eike Schroter/Syfy)
Did that training coincide with when you had to record the song as well?
Oh yeah. And those training sessions were really intense. I mean, it was like four hours of just constant, constant sweat. And the swords we were practicing with really heavy. It was so fun and energizing but also super exhausting. And then thing on top of it, John [MacNamara, executive producer] kind of threw in the musical number there about a week before we shot it.
Wait, what?
It was pretty down to the wire. They were like, 'Oh…you're going to sing too.' [Laughs]
It's not some easy piece of music, either. "One Day More" is a vocally taxing number.
And I hadn't really sung like that since I was a teenager. I grew up doing a lot of musicals and singing and doing all of that, but the musical theatre life for me…I kind of grew apart from that a long time ago and my musical interests have really shifted in the last 15 years or so.
Towards…
This is gonna sound cliché but I guess something a little more sacred to me. Not that musicals aren't sacred for a lot of people. But, for me, I write and I sing in my own time and it's a bit more personal. I guess it's folk. A little folksy, yeah.
THE MAGICIANS — "Lesser Evils" Episode 209 — Pictured: (L-R) Hale Appleman as Eliot, Summer Bishil as Margo — (Photo by: Eike Schroter/Syfy)
Were you the only one in this number who had musical training at all?
Kind of, yes. So they really stepped up to the plate. But I really did everything I could to help prepare everyone else in the time we did have. Because we had one day in the recording studio, that's it. And I think it was supposed to be three hours and it ended up being five or six. This whole thing is sort of a huge "What the f**k?' moment and a huge risk and I applaud John and Sera [Gamble, his fellow EP]. John, especially, for spearheading this particular moment and being willing to take a big, massive chance to see what would happen.
You know, it fits perfectly. I mean, you realize that the scene right before it they're taking suggestions from a sloth.
Totally! We can sort of get away with anything on our show. Thank you for reminding me. Abigail holds a lot of weight in the kingdom. [Laughs]
What can you pick for Eliot in the finale?
Hmmm….in the finale, Eliot is continuing to take on more responsibility and try his best to be as much of a leader and a hero as he can be. And not in any kind of glamorous way, in the more nuts-and-bolts way, putting everyone together and trying to kind of lead a mission which will become clearer towards the end of the season. He's trying to organize the final coup.
The Magicians, Wednesdays, 9/8c, Syfy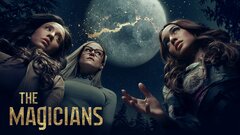 Powered by