The Walking Dead's Greg Nicotero on Shocking Death and Surprise Returns
SPOILER ALERT: Stop reading if you haven't watched The Walking Dead's February 8 midseason premiere!
Sunday's midseason premiere of AMC's The Walking Dead was a stark reminder that nobody is safe in this zombie-filled world. Instead of spending time mourning the devastating death of Beth (Emily Kinney) in last fall's midseason finale, writer/showrunner Scott Gimple and director Greg Nicotero threw audiences a curve ball by killing off Tyreese (Chad Coleman) in a haunting and emotional hour. Many familiar faces from the past were also on hand to welcome Tyreese into the afterlife, including Beth, Bob Stookey (Lawrence Gilliard Jr.), and The Governor (David Morrissey). We caught up with Nicotero to get the inside scoop on the jam-packed episode.
Stylistically, this was quite a departure from a typical Walking Dead episode. Why did you want to shake it up?
It was really challenging, but it gave me an opportunity as a director to spread my wings a little bit. It feels like Terrence Malick. It introduces you to all of these visuals and leads the audience on a journey, and then these visuals build momentum until you finally realize by the end of the episode that this was all taking place through the things that Tyreese was looking at, thinking about, and remembering as he was dying.
What went into the decision to kill Tyreese?
He's just too good of a soul to be able to live in this dark world. At the beginning of Season 4, he says to Karen, "I don't like killing them at the fence." Then at the Big Spot when the helicopter crashes through, he comes back and says he doesn't like going out there, either. It's just not a world that Tyreese can live in anymore and he's not built for it. So he makes a conscious decision through the episode. We see him close his eyes and he decides that it's time to go.
What was the mood around the set on Chad's last day?
Chad is an amazing man and a great actor. He was more excited about the story, the script, and the journey this character went on. So it wasn't sad or depressing. Chad was all about the joy and the opportunity that he had to work on the show. I think the crew was more broken up about it than he was.
On a show with such a high body count, why was it important to bring back these particular dead characters?
Each of those characters had a specific interaction with Tyreese. Obviously the girls (Lizzie and Mika, played by Brighton Sharbino and Kyla Kenedy) were part of what really set him on his journey in Season 5. And ultimately he couldn't bring himself to kill Martin (Chris Coy) and do the right thing. So each of those people interacted with him in a different way and had something meaningful to say to him that would add to his decision-making process.
What was the reunion like on set?
This show is such a family, so when David was back, he had more fun in those two days just seeing everybody again. When the show wraps, we all go our separate ways, but we still keep in touch. We're all still friends. It was really fun and a great scene to shoot.
This group just lost Beth and has now lost Tyreese. How much can they endure before they crack?
Well this episode was roughly 21 days after the midseason finale, but they can't take much more. That's something that we definitely explore in the next few episodes. Every time they lose someone, it kills a part of each of them. So after this episode, it becomes apparent that this group is tired, weak, and they're not as strong as they used to be. Continually losing people takes its toll.
We learned the group is in Virginia, and even though there is no cure in Washington, D.C., that's still their destination. Are we getting closer to the Alexandria Safe Zone storyline from the comic books?
It's possible, clearly. They're in the neighborhood.
There was no sign of Morgan (Lennie James) in this episode. Any clue as to his whereabouts?
Morgan is on the trail. We saw at the end of the eighth episode that he found the map with Rick Grimes' name. He's got a destination because he knows roughly where they're going, so I would hope that he's a good tracker and that he'll find them.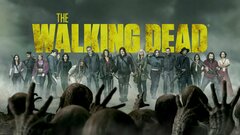 Powered by