'Game of Thrones' Wine Is Coming; Here's How to Buy It
That's what we do: we watch Game of Thrones and we drink things. If you do, too, know this: HBO Global Licensing and Santa Rosa's Vintage Wine Estates have announced a trio of wines—a Chardonnay, a proprietary red blend and a reserve-style Cabernet Sauvignon—themed to the Emmy-winning HBO epic, which returns for Season 7 on July 16.
But you don't have to watch Game of Thrones to appreciate the tipples, which were created by acclaimed winemaker Bob Cabral, a devout GoT fan who was named Winemaker of the Year in 2011 by Wine Enthusiast. "I'm a huge Game of Thrones fan, and these wines capture the complexity of the drama," Cabral said in today's announcement. "But the wines also have great pedigree. We source grapes from premier vineyard sites and use the finest winemaking techniques to create wines of incredible richness and texture."
See Also
The eighth and final season of HBO's 'Game of Thrones' will be just six episodes long—meaning it's a baker's dozen to the bitter end.
If you are a Thrones aficionado, so much the better. Cabral says the wines are inspired by the series' most powerful houses, and their bottles reflect that, too, featuring designs that honor each clan's sigil.
RELATED: Sign up for TV Insider's Game of Thrones Newsletter
• The "regal, golden" 2016 Chardonnay, (Central Coast, $19.99) pays homage to House Lannister and is represented by a golden lion.
• The 2014 Red Blend (Paso Robles, $19.99) is a blend of Syrah, Tempranillo and Petite Sirah, which "lend fragrant aromas of black cherry, vanilla and cocoa and give the wine a lush, rich palate." House Targaryen's three-headed dragon sigil salutes the multiple varietals.
• The 2014 Cabernet Sauvignon (Napa Valley, $49.99) is a "complex, balanced wine with classic structure and multiple layers of flavor." House Stark's Direwolf sigil adorns the bottle.
And great news, if you need something to take the edge off while you wait another 4 months for GoT to return, the Chardonnay and red blend are available now on the specially created web site gameofthroneswine.com. Buy the Cabernet Sauvignon beginning March 20. The wines will arrive in select stores around the country in April.
Game of Thrones, Season 7 premiere, July 16, HBO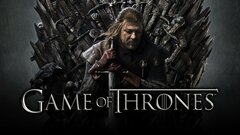 Powered by