HBO Sets 'Game of Thrones' Season 7 Premiere Date
Winter is coming…in the summer. Thursday afternoon, HBO revealed that Game of Thrones' long-awaited, seven-episode Season 7 will debut on Sunday, July 16. The announcement was made via Facebook Live, where fans were asked to melt a block of ice containing the premiere date by typing "FIRE" and "DRACARYS" into the comments, unleashing dragon fire upon the ice. After two unsuccessful streams—and 70 minutes—the third time was a charm, and the ice melted away to reveal the premiere date of 7.16.17. The network also released a minute and a half tease for Season 7, which you can watch below.
Ahead of the announcement, HBO unveiled the official Game of Thrones Season 7 poster Wednesday at SXSW. The hazy image is simple, but it teases the looming battle of fire and ice to come as Daenerys and her dragons make their way toward Westeros (with the Dothraki, the Unsullied, the Tyrells and Martells on her side) and the Night King's army is also on the march. Other stuff on GoT fans' minds: What will happen now that Cersei has lost the last of her children, but gained the iron throne — and some side-eye from her brother/lover Jamie? And what are her chances of keeping it now that Sansa and her brother Jon Snow have a lot less to worry about the Greyjoys and an exiled Melisandre? And who's next on Arya's list now that she has her name — and her taste for blood — back.
RELATED: Sign up for TV Insider's Game of Thrones Newsletter
Other recent announcements include the cast addition of British actor Jim Broadbent, who will play the novels' Maester Marwyn, a wizened archmaester who crosses paths with many of GoT favorites, sharing Jamie Lannister's thoughts on ghosts, commiserating with Samwell Tarly about White Walkers and confabbing with Daenerys Targaryen.
Game of Thrones, Sundays beginning July 16, HBO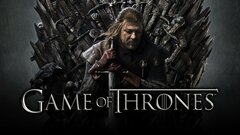 Powered by