What's Worth Watching: Empire
Empire, " Out, Damned Spot " Wednesday, 9/8c, Fox
Diva meets diva as Cookie takes a faded superstar (Courtney Love) under her wing.
You do not want to miss the first five minutes from this week's jam-packed episode of the year's most outrageously entertaining new hit. As usual, Cookie (the fabulous Taraji P. Henson) steals the scene with abandon, slurping champagne in vulgar defiance upon learning of her ex Lucious's (Terrence Howard) engagement to "Boo Boo Kitty" nemesis Anika (Grace Gealey). So much for the family's "friendly get-together."
Cookie also takes command when she learns the Empire label is about to drop one of its original superstars, Elle Dallas (Courtney Love in a raw guest performance), now no better than a raggedy-voiced train wreck of a junkie. But if anyone can rehabilitate a fallen diva, it's ex-con Cookie! There's no questioning her determination or her desperation when she declares, "I am fighting for a comeback, too, Elle. It is do or die for me, too!" If that wasn't enough, Cookie's also working overtime to promote her gay son Jamal's (Jussie Smollett) career, warning his sidelined boyfriend Michael (Rafael De La Fuentes) that, as she learned the hard way, "fame changes people."
All we Empire fans can say to that is: Cookie, never change!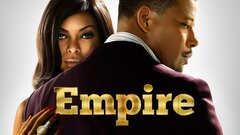 Empire
where to stream
Powered by