Mandy Moore and Zachary Levi Preview Their Disney Channel Movie 'Tangled Before Ever After'
Hair today. Gone tomorrow. Then back again the next day! Disney's 2010 animated blockbuster Tangled, featuring the voices of Mandy Moore (This Is Us) as Rapunzel and Zachary Levi as her rascally suitor Eugene, is finding new life via Tangled Before Ever After. This Disney Channel flick, airing March 10 (8/7c), picks up right where the original left off and it, in turn, will launch Tangled: The Series on March 24. Moore and Levi are back for the whole shebang, and so is Rapunzel's supernatural healing hair, which was luxuriously blond and a city block long before it was whacked off near the end of the feature film into a short, dark, Lisa Rinna shag with no magical properties whatsoever.
"Rapunzel without her long hair is like Indiana Jones without his whip," Levi says. "It's not just her signature look; it's her signature tool and a big part of what made her so badass. She can use it as a hook, a swing, a Swiss Army knife, whatever." Rapunzel's smart 'n' sassy spunk also remains intact and, unlike the Disney princesses of yore, she's not waiting for her man to complete her.
"Rapunzel will turn down Eugene's proposal of marriage," says Moore. "She lost 18 years of her life trapped up in that tower and now that she's free she wants to make up for lost time before settling down with him. She loves Eugene, but she's a glass-half-full girl with a case of arrested development."
Moore, who says she grew up obsessed with The Little Mermaid and Beauty and the Beast, really sparks to that message. "These days, a Disney princess needs to be independent and empowered," she says. "Looking for a handsome guy to solve your problems just doesn't fly."
Besides, notes Levi, "Rapunzel and Eugene barely knew each other. It would be kind of wrong for them to jump into marriage so quickly. We know there's a happy ending because they eventually get hitched in [the 2012 short subject] Tangled Ever After. How they get to that point is what the series is all about."
As is so often the case with animation, the two stars are rarely in the recording studio at the same time—but that hasn't stopped them from having extraordinary chemistry. "They usually record Zac first and then I play off of that," says Moore. "At least 80 percent of what's funny and crazy about his dialogue is off the cuff. Zac is so talented and expressive, he could have chemistry with a wall!"
The series, boasting a starry supporting cast that includes Julie Bowen, Jeffrey Tambor, Laura Benanti and Sean Hayes, plus original tunes by Alan Menken and Glenn Slater, is already renewed for a second season and will take Rapunzel and Eugene on goofball adventures far beyond the kingdom of Corona. "Anything is possible with those two," says Levi. "If you're an eagle-eyed Disney fan, you know they make an Easter egg appearance in the coronation scene in Frozen. So, apparently, they know everybody!"
Tangled Before Ever After, March 10, 8/7c, Disney Channel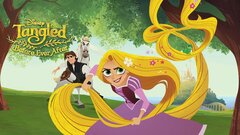 Powered by