'Arrow' Villain Revealed: The Man Behind Prometheus Speaks
[Spoiler Alert: This story features pivotal information revealed in tonight's episode of Arrow regarding the identity of villain Prometheus. So if you haven't seen it yet, don't say you weren't warned.]
The mask has finally come off of Arrow's big bad and surprise, surprise, the guy under that messed-up version of the Green Arrow outfit is none other than Star City's dashing District Attorney, Adrian Chase (Josh Segarra).
Along the way, there have been several potential suspects—Det. Lance (Paul Blackthorne) looked shady; some thought it might be Roy Harper (Colton Haynes); fans even floated the idea that Tommy Merlyn (Colin Donnell) was back from the dead; but Segarra's known for a while that it was his character who has been out to destroy Oliver Queen (Stephen Amell) all season. Although it did take some time to figure it out.
"I got on the phone with [executive producers] Wendy Mericle and Marc Guggenheim and I'd already read it a couple of times–just the sides though, and the sides were very different for the auditions," says Segarra of his audition for the role, adding that their early chats didn't include much character information. "They started discussing this, [that I was] going to be the big bad of the season, you're going to play this guy and they explained Prometheus to me," he continues. "And I'm like, 'Okay, this is going to be pretty exciting!' You know, I'm gonna go and get to train and put different skill sets to use. But it was really just a casual conversation…they mentioned Prometheus along the way."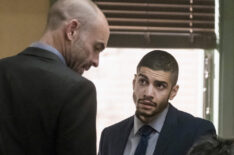 See Also
Executive producers Wendy Mericle and Marc Guggenheim on the fallout from the serious and timely episode.
Having been an Arrow viewer ("I love Neal McDonough so I had watched a lot of Damien Dahrk"), Segarra signed on still unaware of his place within the Central City crime scene. "I go home and I'm celebrating with my family and I'm like, 'Aww man, I'm so excited to get to work on Arrow' and 'This is going to be such a great season.' And my buddies are asking me who my part is and I'm telling them, 'Oh, I'm playing this guy. You know, I guess I don't really know that much about him, but who knows? This could be really fun, right?'' Then they announced Adrian Chase…[who is] Vigilante. And I'm like, 'Oh my gosh, I'm playing Vigilante!'"
While Chase is Vigilante in the DC Comics universe, it was only after relocating to Vancouver for filming that Segarra learned that the Arrowverse's version of Chase was wildly different.
"I started reading Vigilante comics and reading about Chase," he recalls, good-naturedly. "Then I get to work and I'm talking to Marc and I'm like, 'Marc, man, I'm really doing my research. I'm really being studious about this Vigilante guy.' And he's like, 'What do you mean…that's not who you're playing.'" According to the actor, that's when Guggenheim quickly clued him into Chase's backstory and then promptly sent him off for a costume fitting where he got to "everything" he'd be getting into as the villain.
"Me and my wife and my doggie, we moved over to Vancouver thinking one thing and it was revealed once I got here who I actually was playing," he admits. "I think I'll always go back and laugh at this, that part of the story of me realizing who I actually got to be."
As for how Chase got to be Prometheus and why he's so hellbent on bring down Oliver will play out as the season progresses, but Segarra feels that a fate worse than death could be in the offing for Queen as Prometheus continues to target his loved ones. "You're gonna see Chase just kind of trying to burn the world around him."
Arrow, Wednesdays, 8/7c, The CW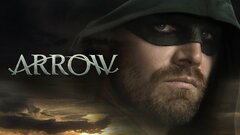 Arrow
where to stream
Powered by