'Grey's Anatomy' Star Jesse Williams Previews a 'Pivotal' New Adventure for Dr. Avery
The guy needs some air. Grey's Anatomy presents a stand-alone episode focusing on Dr. Jackson Avery—the plastic surgeon and ear, nose and throat man played by Jesse Williams—who will escape Seattle and his suffocating mom, Catherine (Debbie Allen), and head to the hinterlands of Montana to perform a rare and difficult throat transplant. Alas, the task is made all the more challenging because Jackson is accompanied by his ex-wife, April (Sarah Drew). Williams tells us all about it.
This road trip could either be great for Jackson and April or pretty damn disastrous. Which is it?
It's not what Jackson signed up for. He's looking to get away, get some space and some clarity. Even though he and April are cohabitating and coparenting, they're trying to move on and date other people. But now they're crammed in a small airplane and have to face what they really mean to each other. It's a pivotal experience that will change everything.
This marks the first time you've done the famed Grey's Anatomy voiceover narration, after eight seasons on the job. Were you feeling left out?
I hadn't even noticed! [Laughs] In fact, I was surprised when they told me I'd never done it! But I'm really proud of this one. Kevin McKidd [Dr. Owen Hunt] did a fantastic job directing the episode, and the throat transplant—which is being done on a young girl—is happening in this horribly under-resourced hospital with the clock tick-tick-ticking. It's crazy!
See Also
Marika Dominczyk explains why Eliza Minnick has been a little tough for everyone to get close to.
Do you ever feel like Jackson is becoming a lone wolf?
I do. He really isn't close to anyone. He doesn't have a confidant. The sisterhood at Grey Sloan is a really big part of our show, and Jackson has no equivalent. He's in a very confusing place these days.
And this doesn't help: April has sided with Catherine in the ousting of Catherine's husband, Richard (James Pickens Jr.), as head of the residency program. And Jackson is clearly on Team Richard.
It's a hornet's nest! The way Jackson sees it, you're either an enemy or an ally. He really resents this business-over-human-beings thing, and that's probably deep-rooted in his childhood. Catherine was always the cold, cutthroat one, plus Jackson was abandoned by his own father. Now his mother is pushing out Richard, the only father figure Jackson's known, and that shakes him to his core. But it's going to get even more intense. This season, we will finally meet Jackson's dad.
Here's an interview with Williams and Drew where they talk about how they're still challenged in their roles:
Grey's Anatomy, Thursday, March 16, 8/7c, ABC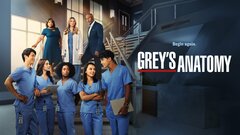 Powered by