'Grey's Anatomy': What's Really Going on with Arizona and Minnick?
[Spoiler Alert: Read ahead only if you've watched this week's episode of Grey's Anatomy. Plot points and developments discussed below. You've been warned!]
It's been a tough road for Dr. Eliza Minnick (Marika Dominczyk) since she first joined the staff at Grey Sloan Memorial Hospital on ABC's Grey's Anatomy but, as viewers know, she has nobody to blame but herself. She's been stepping on everyone's toes without apology and has even managed to both flirt and annoy Arizona (Jessica Capshaw).
What are Minnick's intentions with Dr. Robbins? Did we see some thawing between the two ladies in this week's episode and will it lead to friendship or maybe more? And how will the death in tonight's episode influence Minnick moving forward?
TV Insider chatted this week with Dominczyk (who knows a little something about being on a Shondaland show because she's married to Scandal cast member Scott Foley) on everything that blew up in this week's episode as well as what she thinks of the fans of Arizona, who are rather protective even though her ex, Callie, is not in the picture.
You definitely came in the show not-so-quietly since Eliza Minnick has stirred everyone up. How has it been going for you?
I feel so crazy fortunate. I love playing Eliza. She is such an interesting character and I swear every table read, I read it and I'm like, "Oh my God, I get to do this? I get to do this? I get to do that?" It's so nice to play a character that has different sides to her. You think she's one thing and then in this week's episode, when I read it I was like, "Yay, she turns a corner. Maybe people will like her. She has a heart. She has feelings." I do feel super, super lucky and I'm actually just relishing and enjoying every moment I get to do it.
See Also
How easy is it to be Switzerland when everyone else is choosing sides? Check out this exclusive clip to find out!
What leads Eliza in the choices we've seen her make and how she makes them. Ego? Heart? Mind?
I don't know if it's ego so much as like she's just a perfectionist and she wants to succeed. She's super smart and very good at what she does and it's one of those things where she's almost blinded by it. She wants the good of the hospital because she takes her job super seriously. I think her heart and all of that is on the back burner almost. But it's there and you get to see glimpses of it like in this week's episode.
When the little boy does die during surgery, is that something that Minnick hasn't dealt with before?
Yeah, it's never happened to her before. She doesn't work with kids in general so she's never lost a kid and I think [the other staffers] have been giving her such a hard time and putting up this wall where she couldn't do what she does best and this episode she's like, "I'm doing it. I'm going for it, we're doing my methods, there's no looking back, it's tried and true and it's fine." She didn't expect it to go wrong and this is wrong.
I think in the beginning she's more trying to figure out what it all means. She doesn't think about her role, she doesn't think about Edwards or anybody else, she's just kind of like, "What just happened in there?" She has to process her own feelings about it and then her feelings as a professional and what it means for her in her job and how horrible she has dropped the ball and it hit her hard. I don't think that she knew how to process it right when it happened because it was so unexpected.
RELATED: Sign up for TV Insider's Grey's Anatomy Newsletter
Let's talk Arizona. There's definitely something going on there but were Minnick's choices a way to kind of stick it to Arizona?
No. She can totally separate work and not work. Her attraction to Arizona, which she does because she flirts with her early on and says, "I like girls. I'm into you" when they're alone, but I think that when she's in her work zone she doesn't even think about it. She's basically overly confident. She's overly confident in that surgery. Maybe 99.9% of the time that works and then this time it just went the other way.
What does she see in Arizona that grabs her attention?
I think in the first episode it was strictly a looks thing, an instant kind of attraction that you can't explain it. Then she kind of gives it to her and I think she likes it. You know what I mean? I think she likes the banter, she likes the back and forth. Maybe she likes the challenge. If it's not hard it's not worth it, kind of thing.
I have to admit, seeing Arizona pull out that horn wire in her car, that was hot.
It was hot! It was super hot! When we had that scene I was like, "Can someone teach me how to do that, because I feel like my husband would love it if I knew how to do something like that." Who doesn't like a chick who can fix a car? I really like that scene because it's a scene where Arizona totally doesn't have to help her. It was a little bit of an olive branch after a horrendous day and it was also kind of unexpected and kind of random. That's what I love about Grey's because you just never know which way they're going to take it.
What would you say moving forward, we going to see Arizona and Eliza get a little closer maybe?
Maybe a little closer, maybe a little further apart. Maybe both. I'm hoping that it's going in a positive direction. Peaks and valleys, as they say.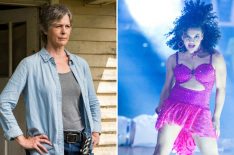 See Also
'Game of Thrones,' 'The Walking Dead,' 'Pretty Little Liars'—why can't we quit you?
I'm guessing you're aware that the fans are very protective of Arizona and her love life. Have you heard this?
I totally was not aware until a little bit ago. I have to say, Arizona fans, I so appreciate the passion and I love it. I love that they love it so much and I just want them to know that Eliza was not around for that. She doesn't know anything about Callie as of now. It is what it is, but you've got to love for fans after 13 years to be so crazy passionate about a character and their love lives and stuff so I've got nothing but love for that. It's so fun to be a part of a show like that, even if for a minute.
Grey's Anatomy, Thursdays, 8/7c, ABC.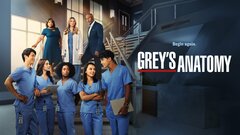 Powered by