'Timeless' Creators Explain That Shocking Season Finale and Teases a Possible Season 2
[Spoiler Alert: Read on only if you've watched this week's episode of Timeless. You've been warned!]
On the first season finale of NBC's Timeless, we found out Lucy's (Abigail Spencer) mom Carol (Susanna Thompson) is a Rittenhouse bigwig! And what's with the flashes of different eras that seem to be making Jiya (Claudia Doumit) go comatose? Will time-changing terrorist Garcia Flynn(Goran Visnjic)rot in a black site cell?
Executive producers Eric Kripke and Shawn Ryan explain the meaning of the Timeless universe revealed in the show's season finale and offer some insight into a second season if the show is renewed.
Wow. Carol is Rittenhouse. Most fans probably didn't that coming. It makes sense that Susanna Thompson would be more than she seems. Was that always the plan?
Shawn Ryan: [Laughs] I wasn't aware of her history on TV of playing characters who were secretly other than they were initially.
Eric Kripke: It seems she's cornered the market on duplicitous mothers. It's a very specific market, but she owns it! She plays the part with spirit and strength and maternal love and when it's revealed who she really is, she plays it with the same maternal love, which makes it more complicated and interesting. And yes, that was our plan from the very beginning that Mom was senior Rittenhouse, even outranking Benjamin Cahill(John Getz), who was our red herring. Most of the season we leaned into him– so it was "Oh my god, it's her father who is in Rittenhouse." That was always the structure that we wanted to do. I think people were shocked but if you go back and rewatch the scenes with Lucy's mother, you'll see that there were all these references.
The most shocking moment was when she tells Lucy that everything has gone according to plan. Any teasers to explain what that means?
Kripke: What was most important to Rittenhouse was getting the [time-traveling]mother ship. They accomplished that and we'll see in season two what they'll do with it.
See Also
Lucy and Flynn meet in the McCarthy era as the Rittenhouse cabal has a once-in-a-generation confab.
Can you tell us what's next for them?
Ryan: We're still in the process of figuring it out and planning some surprises for season 2 but it definitely opens up a new dynamic for what our heroes will be doing. It will also streamline and focus the show. We've been playing with the audience all year as to who really is the bad guy here, Flynn or the Rittenhouse people. Then it was they're both bad and they both have to be stopped. In the finale, our heroes ended up teaming up with Flynn to stop Rittenhouse. In a season 2, we'd delve into who's left in Rittenhouse after the purge that happens in the finale, what do they want and how do we stop them.
Kripke: I'll just repeat what Matt Frewer's late character Anthony said. "They want to create a present in their image: A brave new world, shiny and happy and completely under their control."
Will Lucy go deep undercover in the movement? What else can she do?
Ryan: I'm reluctant to be too specific about her journey, but I will say that the end of the season is a great launching point for putting Lucy in the middle of Rittenhouse on one side and Wyatt (Matt Latner) and Rufus (Malcolm Barrett)and the rest of her team on the other side.
After Lucy makes a deal with Flynn that he could make one last trip in the mother shop to change history to save his murdered wife and child and then return it, agent Christopher (Sakina Jaffrey) swoops in with big guns to arrest him. Is this the end of Flynn? Is he doomed to years in prison? Or will he be back?
Ryan: We'll get together with the writers to figure it out. I will say that Goran was tremendous on the show this season, and if there's a way to incorporate him into the season, we definitely will. The next few months are about coming up with the ideas, finding out what the studio and networks want to do and fine tune what we want to do.
Flynn's late-blooming ally, the `dangerous former pilot Emma Whitmore (Annie Wersching) has the mother ship now. What are her goals?
Ryan: Her goals align with Rittenhouse. She was part of the group.
See Also
A round up of some of our favorite quotes on television from this past week.
She seemed to be hiding from Rittenhouse in the Old West when she was found. Was she?
Ryan: If she was part of Rittenhouse, what was she doing there? That's an answer we owe the audience.
Kripke: She told Anthony and Flynn that she was hiding from Rittenhouse, but all we have is her word.
You've planted another seed with the strange illness of Rufus's girlfriend Jiya that hit her after she took her first time-travel ride on the so-called Lifeboat. What's up with that?
Ryan: In the finale, she obviously was affected when she was the fourth passenger instead of the intended three in the Lifeboat. It affected in some way how she observes time. That's definitely a hint. We liked Claudia from the get-go, and as we began giving her more stuff to do and the relationship between Jiya and Rufus grew, she's become a bit of a fan favorite. This development allows us more story for her next season.
Speaking of stories, will there be a new time travel story each week or will the show go in a different direction?
Ryan: To me, what makes our show unique and wonderful is that we get to investigate different time periods. We have discussed maybe doing a two-parter that would stay in one place in one time period. But ultimately, the show's normal pattern would be to go a different time period and place each week to deal with events. That's part of the appeal of the show.
Timeless, Mondays 10/9c, NBC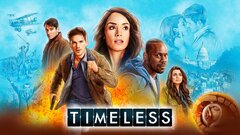 Powered by