Sam Heughan and Graham McTavish Have a Mini 'Outlander' Reunion
On February 13, Outlander vet Graham McTavish posted a photo on Twitter reuniting with current star Sam Heughan.
A grand night with a top bloke @SamHeughan #Slainte #nephewsanduncles pic.twitter.com/Q8cFtAJmEN

— Graham McTavish (@grahammctavish) February 13, 2017
McTavish was a prominent Outlander character in Seasons 1 and 2 of the Starz drama as Dougal MacKenzie, Jamie's (Heughan) bloodthirsty uncle. Dougal met his untimely end in the Season 2 finale last July after he caught Jamie and Claire (Caitriona Balfe) plotting to kill Prince Charles (Andrew Gower), resulting in a blade to the chest. Obviously, he did not have #Slainte, as McTavish writes above, which is a Gaelic expression meaning "good health."
We aren't holding our breath on any Dougal ghosts or flashbacks in Season 3—especially since the two met up in LA, not in Ediburgh or South Africa, where the show is currently shooting—but it is still nice to see the Scottish clansmen together again. However, if you're missing McTavish on your screen, you can catch him in AMC's comic book adaptation Preacher.
RELATED: Sign up for TV Insider's Outlander Newsletter
Both Heughan and Balfe replied to the reunion pic, and you can see their exchange below.
Gone fishing… 🎣
Great to see you, miss you mate!x https://t.co/LDEZ2LG9vF

— Sam Heughan (@SamHeughan) February 13, 2017
@grahammctavish @SamHeughan you two are looking far too tanned and relaxed ..!! Miss you both ! Xx

— Caitriona Balfe (@caitrionambalfe) February 13, 2017
Miss you too Cait. Your ears would've been burning. We toasted you in your absence! https://t.co/9vNaIfVWDV

— Graham McTavish (@grahammctavish) February 13, 2017
Aren't these guys just the cutest?
Outlander Season 3 will air later this year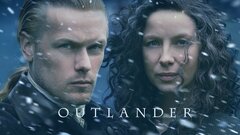 Powered by