'Grey's Anatomy': Will Kepner Sink or Swim When She Steps into Grey's Shoes? (VIDEO)
How much pressure can one person stand?
As you may know, on last week's episode of Grey's Anatomy, Meredith Grey (Ellen Pompeo) was suspended after questioning Bailey's (Chandra Wilson) decision to choose Dr. Eliza Minnick (Marika Dominiczyk) over 'The Chief' we all know and love, Dr. Richard Webber (James Pickens, Jr.).
RELATED: Sign up for TV Insider's Grey's Anatomy Newsletter
Enter Dr. April Kepner (Sarah Drew), who is having more than a few struggles on her first day in Grey's former position as Chief of General Surgery. Just how tough is it going to be for the usually cheery Kepner when her colleagues and even some patients are questioning her new authority and her loyalties?
Check out the exclusive clip below where Owen (Kevin McKidd) and the other doctors talk about their loyalties to Webber, but also how they feel about April, who may have gained an impressive new job, but at what cost?
Sitting alone in the lunch room is the worst, right?
Grey's Anatomy, Thursdays, 8/7c, ABC.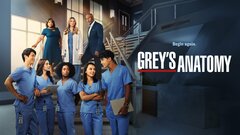 Powered by