King of the Nerds: Who We Want to Make It to the Final Four (And Who Probably Will)
Season 3 of King of the Nerds kicked off last week with new contestants entering Nerdvana, all vying for a chance to sit atop the Throne of Games and win the $100,000 prize. With one eliminated in the premiere, 11 remain to battle it out in tonight's episode (TBS, 9/8c). Here's who we'd like to see in the Final Four, and the nerds we think are most likely to actually make it.
Who We'd Like to See Go
We haven't gotten a close look at everyone's personalities yet, but we do know who we don't want to win: Ori, who (thankfully) already been pegged a weak link for his inability to play well with others. His "joke" about not listening to Heather's ideas because she's a woman, along with his questionable mechanical engineering skills, have us hoping he'll be the next to go.
Who We Want in the Final Four
Ben
The marine biologist hasn't quite shown his nerdy side yet, but he reminds us so much of Season 2's Xavier, and that's got to be a good thing, right?
Todd
Not only is he funny, but he also went full-on nerd while explaining his team's Hitchhiker's Guide to the Galaxy-inspired team name, and we couldn't be more proud. Hopefully he'll keep us laughing until the end.
Amanda
A bookworm, paralegal, and mother, Amanda has a melting pot of experiences that can only help her and her team. Plus, we couldn't take our eyes off her perfect ombre locks — teaching us that nerds can have nice hair and take over the world.
Lily
We're not sure how successful the professional cosplayer will be in a Nerd-Off, but her enthusiasm during the first episode's team challenge was unmatched (except maybe by Todd).
Who Will Probably End Up in the Final Four
Colby
Let's face it, as a Jeopardy! champ who has already stepped up as a mediator within the group, Colby is a likely candidate for the Final Four. He's smart, likeable, and seems to know when to keep his mouth shut, which is always a good quality in reality game shows of this sort. He missed our own Final Four wish list by a fraction.
Kaitlin
The impressive NASA engineer isn't exactly a "people's nerd," but she has proven that she can get things done. She's already taken the leadership role of her team similar to Season 1's runner-up Genevieve, but with much less singing.
Heather
Ladies have won every season of King of the Nerds so far; this time, the women of the house have already planned an alliance, indicating another strong year ahead. The likeliest candidate to rise to the top is Heather, who aspires to be "cute, and fiercely intelligent."
Ben
We're just really holding out for Ben.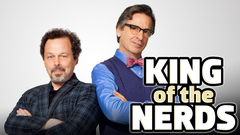 Powered by