Riverdale's Ashleigh Murray Is Purrfect As Pussycat Josie, and She's Not Putting Up With Any S–t
We only got a tease of Riverdale's most famous front woman Josie McCoy in last week's series premiere, but tonight, Ashleigh Murray gets some serious screen time when Josie and the Pussycats break it down at Riverdale High's pep rally (with some hip-shaking assistance from the River Vixens, natch). So who is the chanteuse behind the sexiest cover of "Sugar, Sugar" this side of a strip joint? Here, the lively and lovely Murray lets a little bit of the cat out of the bag…
We find out that Josie is tight with mean girl Cheryl Blossom (Madelaine Petsch), but I do not see Josie as somebody who would like deal with that girl's nonsense.
[Laughs]. Here's the thing, Cheryl, she does a lot of s–t to a lot of people. But I'm the one person that she doesn't do that with. Because, Cheryl and I are basically elite in our own right. You know, she comes from a lot of money. Everybody knows the Blossoms, they have a manor. And then you have the McCoys, who are politically known. So there's a certain level of respect that comes with that type of elitism. And I think we share that mutual respect.
We also see in episode 2 that, unlike Archie (KJ Apa), Josie's musical talents are supported by her mom, the mayor….who is Robin Givens!
Yes! I know, I love that. And I was geeking out about that, too! I was like, what? Robin Givens? Yes!
RELATED: ME-WOW! 'Riverdale' Releases Josie and the Pussycats 'Sugar, Sugar' Music Video
So is it really your vocals?
Yes, all of us! It's all of us signing. So when the Pussycats are in those rehearsal sessions, that's us. Sometimes we'll go in the studio and record the song and if it's written in the script that we're rehearsing the song, they may want the playback happening. If playback doesn't quite fit what the blocking is for the scene, that tends to throw a hitch in things. [Laughs]
And how does Josie fit into the whole Riverdale world?
Josie is kind of separate in a way. She's such a strong identity and has her own goals in mind. And so there's only certain people that draw her attention [like] Cheryl and even a little bit of Veronica (Camila Mendes). So, you know, she ends up getting tied into this world even whenshe's trying so hard to get out of it. You know, it's a small town and Josie has big dreams and she knows Riverdale is not it. But this is it what it is for now. I think that Josie's main plan is to continue to find out who she is, who her sound is. And also, to figure out if she needs that approval from both of her parents or if she can succeed without it.
How often will we see you performing on the show with the girls?
A handful of times. I'm only in seven episodes total. But, I think I've performed like six or seven times.
RELATED: Line 'Em Up! We Investigate 10 Riverdale Murder Suspects
And now that you all are so close to wrapping the first season, can you tease me the biggest surprise you've experienced so far on the show?
Oh man, the biggest surprise I would have to say has to do with Polly, Betty's sister. I won't say what it is but I was floored and I think people might be as well!
Tonight's episode also see a potential thawing in the cold war that has broken out between Betty (Lili Reinhart) and Veronica following their clash over Archie in last week's opener. Here is an exclusive look at how V plans to smooth things over with B, who really needs to find a way to make Kevin Keller (Casey Cott) a series regular once she makes up with the new girl in town.
Riverdale, Thursdays, 9/8c, The CW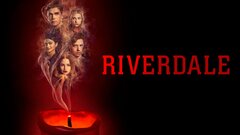 Powered by