ME-WOW! 'Riverdale' Releases Josie and the Pussycats 'Sugar, Sugar' Music Video
In advance of the Feb. 2 episode of Riverdale, The CW has released a sweet music video starring Josie and the Pussycats (led by series star Ashleigh Murray as Josie) and the steamy ladies of Riverdale.
The new video is set during a Riverdale football pep rally and features a Bring It On-esque routine by the River Vixen cheer squad led by series bad girl, Cheryl Blossom (Madelaine Petsch). Petch also lends her voice to the track along with backing vocals by The Pussycats—guest stars Asha Bromfield (Melody) and Hayley Law (Valerie).
"As if stepping into the shoes of a fiery icon like Josie wasn't enough," says Murray, "I was gifted the opportunity to reimagine and rock out on the classic 'Sugar, Sugar.' And boy, was it sweet."
RELATED: Line 'Em Up! We Investigate 10 Riverdale Murder Suspects
For those of you who may be wondering why it isn't The Archies performing "Sugar, Sugar"—which would be more in line with Archie canon—executive producer Roberto Aguirre-Sacasa explains, "The hit song 'Sugar, Sugar' has always been a huge part of Archie's history, so we knew we had to include it in Riverdale in some way. Since Archie's just starting his musical journey when we meet him, we thought it would be a fun reinvention to have Josie and the Pussycats perform an updated version of 'Sugar, Sugar.'"
The radio-worthy track is a newly recorded update of the 2009 single "Candy Girl (Sugar Sugar)" by Inner Circle featuring Flo Rida—a song with an Archie connection. The Archies' iconic hit "Sugar, Sugar," came from The Archie Show and stayed at #1 for four weeks on the Billboard 100 chart in 1969, topping songs by the Rolling Stones, Marvin Gaye, Elvis Presley and The Beatles.
Riverdale, Thursdays, 9/8c, The CW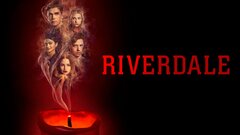 Powered by