History's 'SIX' Explores the War—and Women—at Home (VIDEO)
For a show about SEAL Team Six, History Channel's standout scripted drama SIX isn't all guns and mano-a-mano battles. It also pulls back the curtain on the homefront drama of the women who love these elite soldiers.
"SEAL wives are very strong and very independent," says Brianne Davis (pictured, left), who plays Lena Graves, the wife of team leader Joe "Bear" Graves (Barry Sloane of Revenge). "But it's a very lonely life…I talked to a SEAL wife and these men are gone 300-some days a year. If they're on-call, they can only be an hour away from the base and the husband can leave at any time." In addition, Davis, who has also participated in two USO tours and co-starred in Jarhead, reveals that "when they aren't on a mission, they're training for a mission. So they're gone all the time."
RELATED: Meet the Cast of History's SIX
This sort of emotional and physical distance only exacerbates the issues between the Graves, a couple reeling in their own ways after losing a baby two years earlier. "This horrible thing happens to them, which is unimaginably tragic, and they can't talk about it to each other," Davis says. "Lena keeps everything close, everything has to stay inside and she has to keep strong for her husband. Because if she isn't strong, then he can't focus on his job." However, she quickly adds that all hope is not lost. "Lena loves Joe with every ounce of her being, she just can't find a way to get back to what they had [after losing the baby]."
In Wednesday's episode, the pair take a hopeful step forward as they visit a fertility clinic in hopes of restarting their family plans (and engage in possibly the sexiest clinical effort ever).
Watch a sneak peek of the episode:
The hour also gets into the stresses within the home of Bear's cohort Ricky "Buddha" Ortiz (Narcos' Juan Pablo Raba) and his wife Jackie (The League's Nadine Velazquez, pictured, right). Unlike Lena, though, Jackie is not about staying silent. "She is a career woman who put that life on hold to be a family woman and she is very happy about that," offers Velazquez, adding that her character takes action Ricky postpones retirement for a mission to save the team's captures ex-leader Rip (Walton Goggins). "They [agreed he] would leave the military to spend time with their kids, who he hasn't seen grow up because he's gone so much," explains Velazquez. "When that is reversed, Jackie makes the decision to go back to work. You know, if he's gonna do that, then she is gonna do what she wants and needs to do."
Explaining that Jackie's move tonight is more out of self-reliance than defiance, Velazquez feels that "this couple is not going to split up. Jackie's committed to supporting him but she's not going to sacrifice herself anymore." That is never more clear than in a scene within the Ortiz house that hints at Jackie being an even tougher leader than even Sloane's Bear. "With the Ortizes, you see that I am probably the strongest one, emotionally. When Ricky is home, he is sort of lost and looks to me for guidance."
Six, Wednesday, 10/9c, History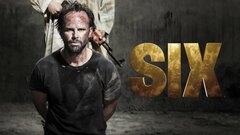 SIX
where to stream
Powered by