Dave Annable Charms 'The Mick'
From Brothers & Sisters to Red Band Society to Heartbeat, Dave Annable has made a career playing relatively straitlaced good guys caught up in various dramas. But now he's getting into the comedy game with a guest spot on Tuesday's episode of the Fox comedy The Mick as an upper-crust sort who catches the fancy of Kaitlin Olson's low-rent Mickey. Could our favorite new trainwreck be upping her dating game? Or is this poor rich guy in for a disaster of his own? Whatever the case, it was clearly a joyride for Annable.
OK, what is a nice guy like you doing with The Mick?
I guess I am just attracted to the awesomeness! She is literally just so engaging, both Kaitlin and the character. It was such a pleasure to work with her. You know, she's coming from one of my all-time favorite shows, It's Always Sunny [in Philadelphia], so to get to work with her and learn from her and laugh with her? It was just an amazing experience.
And who is this guy? Mickey is sort of trashy, and you usually play the clean-cut guy.
I play Teddy Grant, this sort of JFK Jr. type from Greenwich, Connecticut. So it is sort of a similar walk for me. Which was great for me, because that couldn't be further from my upbringing. [Laughs] I was super excited to work on this show, and my experience on set topped even my excitement. I had only seen the pilot when this role came up, and that was hilarious, so I was like "Yes, for sure!" And yeah, it's a bit of a difference for me, going into the half-hour comedy world, but I couldn't have had better teachers.
How on Earth does Mickey land a rich guy?
I can't give too much away, but let's just say he's a hero in the opening scene. They make their connection very early on in the episode.
And from there?
They're in the getting-to-know-each-other phase for most of the episode, but there is a moment when she brings Teddy back to the house and he gets to meet the rest of the "family," as it were. Chaos ensues from there. I basically got to work with everyone but Alba [Carla Jimenez]. And you'll see in the episode, the kids have this well-choreographed fight scene that was just awesome to watch. Teddy sees it, but I was watching them as an actor as well, and we just kept laughing. It was the most fun week of work.
Does Mickey meet Teddy's family? I can only imagine the impression she'd leave.
[Laughs] No, but hopefully if there is a "Bring Teddy Back" campaign, which will probably be started by my mother, hopefully we can meet his family. He does take her to his yacht and from there, she makes a few decisions that she'll probably regret later on.
And how does her boyfriend Jimmy (Scott MacArthur) feel about this development?
Well, he may have something to do with that opening scene. [Laughs]
With Kaitlin and the show's creators John and Dave Chernin all coming from Sunny, and you being such a fan, did you let them know you were available to guest on Season 13 when it starts?
I think they got that idea when I showed up with my headshot and résumé to the first day of shooting. [Laughs] You can't come in too hot, but of course I let them know I am such a big fan, and I am now even more so after working with them.
Well then we will definitely have to help your mom with that #BringBackTeddy campaign.
Oh good, I need the heat! [Laughs]
The Mick, Tuesdays, 8:31/7:31c, Fox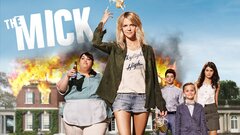 Powered by