Broad City: Living Broker and Larger in Season 2
More sex. more drugs. More…Bob Balaban? Broad City, Comedy Central's hit series about two twentysomethings (Abbi Jacobson and Ilana Glazer) who are living broke and large in NYC, returns for its second season tonight. Creators-stars-BFFs Jacobson and Glazer tell us what to expect.
What big changes are in store for Season 2?
Glazer: [Shrugs] We have an Emmy-winning makeup team now? I think Season 2 expands on the essence of…whatever we were going for in that first season. We make it bigger–wait, Abbi, we need to fix your mascara.
Jacobson: Ilana does my makeup…. Not really.
Glazer: I'm just the looker.
Jacobson: I'll ask her, "Is there something in my teeth?"
You also have Seth Rogen playing someone who hooks up with Abbi, and Bob Balaban guest stars later in the season as Ilana's dad. What was it like working with them?
Glazer: In comedy, you get to meet your heroes sooner than in any other part of this industry. It's f—ing crazy. We did in Season 1, and even more so in Season 2, and it's been wonderful.
Jacobson: We have Oscar nominees this season! Two! Wait, nominees? Or did one of them win? [Balaban was nominated as a producer of Gosford Park; the other Oscar guest has yet to be announced.
Broad City started out as your own web series. How involved are you in the editing process now?
Jacobson: Oh, we basically sit behind the editors.
Glazer: We move their hands like chopsticks.
You recently released Hack Into Broad City, a web-only series of vignettes in which you do things like Skype with each other about cereal. Do you guys ever take a break?
Glazer: We wanted to get people excited before the new season. Honestly, writing that particular webisode was just an excuse to eat cereal. All I want to do is eat cereal…and it's basically made of pebbles and packing peanuts. All [cereal companies] do is pour maple syrup on packing peanuts and I'm like, "Please!" [Laughs]
Broad City, Wednesdays, 10:30/9:30c, Comedy Central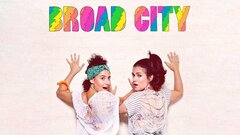 Powered by