'The Gilded Age': Kelley Curran Says Prepare for 'Battle Royale' Between Turner & Bertha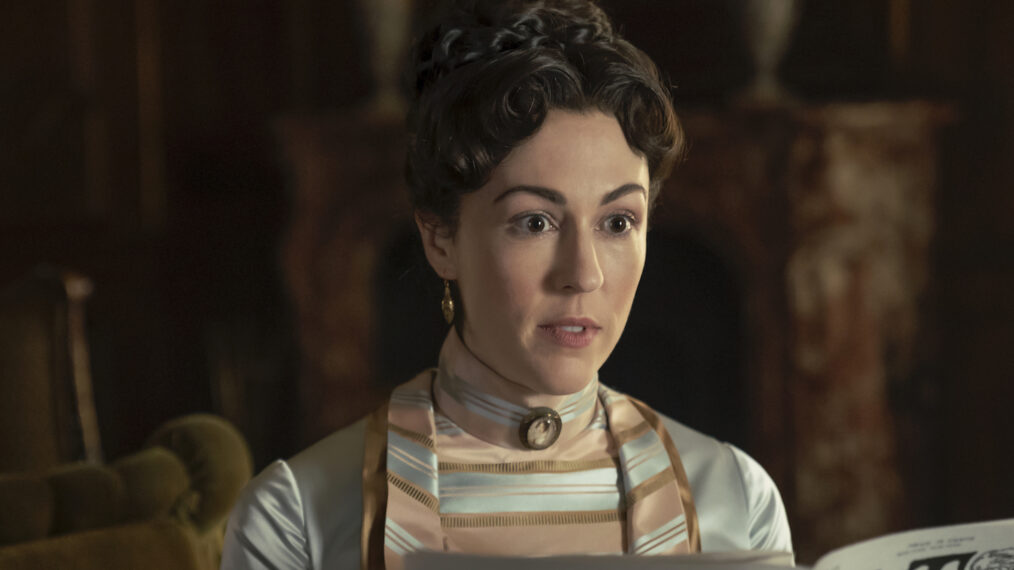 [Warning: The following contains MAJOR spoilers for The Gilded Age Season 2 Episode 4, "His Grace the Duke."]
Carrie Coon's Bertha Russell is fighting two battles in The Gilded Age Season 2: her public opera war with Mrs. Astor (Donna Murphy) and her private battle with Enid Turner/Mrs. Winterton (Kelley Curran). Episode 4 proved she's currently winning both.
After a famous playwright came to town in Episode 3 (Oscar Wilde, played by Jordan Waller), the Manhattan elite were visited by the English Duke of Buckingham (Ben Lamb) in Episode 4, and the Russells and the Wintertons were both competing for the prize of his attention. The Wintertons knew the Duke from their time across the pond, but Bertha wouldn't give her former lady's maid — and would-be seductress of her husband, George (Morgan Spector) — the satisfaction of the public notoriety that would come with sitting next to him at dinner. She switched their name cards, which was enough to make Turner seethe across the room. But Bertha took their rivalry further by convincing the Duke to stay at the Russell's mansion in Newport instead of the Winterton's.
Bertha is always plotting, so her poaching the Duke is key to more than one of her plans. But she's more than capable of killing two birds with one stone. Bertha told the Duke she would inform the Wintertons of his change of plans herself, but the episode ended with Turner learning the news in the morning paper. That, paired with the Wintertons being thrown out of the Academy of Music by Mrs. Astor earlier in the episode, caused a delicious Turner hissy fit that only The Gilded Age could pass off as thrilling drama.
The episode ends with Turner running up the marble stairs of her grandiose mansion shrieking to Mr. Winterton (Dakin Matthews), "I don't want other dukes, I want this duke! We found him, and he's mine! But that witch has stolen him from me." It's the kind of melodrama actors live to play.
Curran tells TV Insider this is "tremendously first-world problems, but I think that what is so delicious about [Julian Fellowes' writing] is for the audience, it's like a comfort watch. I think it allows the stakes to be low, but for the characters, the stakes are enormous."
"And that's also in some ways really what Edith Wharton did as well," Curran continues, "these personal stakes in her novels for the people who felt like, I'm either in this world or I'm destitute. That's how stark this society was. There was a burgeoning middle class, but it wasn't quite established yet, as far as I understand. And so if you fell, you fell hard. And so for these people, the stakes are really survival, but they manifest in such a superficial kind of way."
Curran learned of this season's Turner twist when she was given the script for the episode where she makes her return (Season 2 Episode 2). While filming Season 1, she knew Turner "aspired to society levels, and part of her resentment stemmed from not being able to achieve that and arrive in that world," but she had no idea her character would succeed in her quest to marry up. Now that she has, "we're off to the races."
"You really could have knocked me over with a feather when I saw, when I got all the way to the end" of that script. She says reading those final lines of the episode "was just stunning" and "really, really exciting," mostly because it's such a fun twist to be able to play, but also because it meant she finally got to wear one of costume designer Kasia Walicka-Maimone's gorgeous dresses for the wealthy women and not just her black lady's maid uniform from Season 1.
Fellowes previously told TV Insider that Turner marrying up was always part of the plan. They needed to find an actress who could play downstairs staff and a high-society woman, and they found that in Curran. She had no idea that's what they were looking for when she auditioned, but she put herself out there just in case.
"I remember thinking, 'If I don't get cast as this part, I'd love them to consider me for other parts,'" she shares. "So I remember I picked out a totally different dress. I wore this dress with all this decolletage, and I thought, 'Let me just see if this helps.' And maybe without knowing that that was the trajectory, maybe that was just instinctively something I was picking up on." And perhaps it's what helped her land the "juicy" role.
Now that Bertha's made this offensive move, Curran says "you can expect a hard fight" to come. "I think they're both women with a lot of grit, and they're both going to dig in. So I think you can expect a nice, long battle royale," she says, adding that no one writes this kind of low-stake melodrama like Fellowes, of whom she's a longtime fan.
"I think the first work of his I saw was Gosford Park, and then I watched all of Downton Abbey, and I just love his rhythm," she says. "I love his landscapes of characters. I love the way he plays the long game and trusts a story and trusts his audience. I just think it is such a privilege to work on one of his shows."
One of her favorite parts of the character is her feelings for the Russells. She has a twisted respect for Bertha and her social success, but Turner also resents that she didn't succeed in splitting up the power couple. Turner has romantic feelings for George, Curran explains, otherwise there would have been no gain in being his mistress. "It would be hard to live under the same roof as George Russell and not actually develop feelings for him," she says. "For me, that was a real motivator in Season 1." Turner does have it good with her (much older) husband, though. He doesn't know the full extent of his new wife's past, but that didn't stop him from defending her when Mrs. Astor kicked them out of the Academy.
"I love that scene because we get to see him without Turner," Curran says. "And so we get to see something of his interior, his private feelings, and how he defends her in front of the most powerful woman in society. I love that scene. I think it speaks volumes in a very short amount of time."
Mr. Winterton doesn't seem to care what happened in her past, "and I think it's what Turner needs," she continues. "She's such an armored person, and she's so preemptively ready for conflict and ready for a fight and ready for a struggle. And I think to have someone who loves her in spite of that, who loves her and takes everything and says, 'OK, whatever your past is, you're in my life now and this is what we're doing,' I mean, that might be the tonic."
This marriage that began as a means to an end might end up as a love match. As Curran explains: "I do think she is a lonely person, and she was a lonely person in Season 1, and I think in Season 2, whether she's able to accept it or not, I think she's being cared for the first time in a very long time, and that is powerful."
Bertha's newly restored relationship with George makes her social rise possible. What could happen when Turner has the winds of love in her sails?
The Gilded Age, Sundays, 9/8c, HBO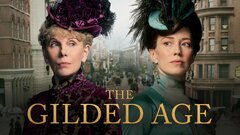 Powered by