HBO Cancels 'Perry Mason' After 2 Seasons
HBO has canceled its Matthew Rhys-led drama Perry Mason after two seasons, according to Deadline. Produced by Robert Downey Jr.'s Team Downey, the reworked 1950s and '60s classic courtroom show followed the titular character portrayed by Rhys.
"We are tremendously grateful for the remarkable work of Matthew Rhys and the unrivaled cast and crew of Perry Mason for their reimagining of such a treasured and storied franchise," HBO said in a statement. "While we won't be moving forward with another season of the series, we are excited to continue working with the brilliant creatives at Team Downey on future projects."
The series premiered strongly in June 2020, which would see Rhys earn an Emmy nomination for his leading role. HBO renewed the series midway through its first season. Season 2 saw Jack Amiel and Michael Begler (The Knick) serve as showrunners, taking over for creators Ron Fitzgerald and Rolin Jones as they moved on to new endeavors.
The second season premiered earlier in March, over two and a half years after its initial season ended. As such, linilar ratings declined by over 50 percent, although THR notes only represents a fraction of the network's audience.
Perry Mason is set in 1930s Los Angeles and follows the titular character as he transitions from private investigator to the lawyer made famous in Erle Stanley Gardner's books and the original TV series featuring Raymond Burr.
Alongside Rhys, Juliet Rylance, and Chris Cha in Season 2 are Diarra Kilpatrick, Eric Lange, Justin Kirk, Katherine Waterston, Hope Davis, Fabrizio Guido, Peter Mendoza, Mark O'Brien, Paul Raci, Jen Tullock, Jon Chaffin, Onahoua Rodriguez, Jee Young Han, Sean Astin, Tommy Dewey, Shea Whigham, Wallace Langham, and Jack Eyman
The series will remain available on HBO's streaming platform, Max.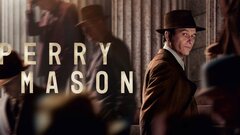 Powered by