'Escape To The Chateau' Star Angel Strawbridge's Foul-Mouthed Rant At Producer Is Leaked
The hit British reality series Escape to the Chateau, which airs on HGTV and also streams on Peacock in the U.S., has been dropped amid claims of bullying against its stars, Dick and Angel Strawbridge.
Escape to the Chateau follows couple Dick and Angel Strawbridge and their family as they buy and renovate a run-down French chateau while raising two young children and starting a business hosting weddings and other events. The show aired on Channel 4 in the U.K., but the network cut ties with the couple last week following an independent investigation into their conduct.
In leaked audio obtained by Deadline, Angel appears to be cursing at a crew member, referring to them as a "f***** up little c***," and accusing them of posting images on Instagram mocking her and her husband.
"Who is that inspired by when you're f****** working at the chateau?" Angel is heard saying, referring to the images in question, which apparently resembled Dick. "Just tell me that, and then you can f****** leave, and this is me f****** angry because I think you're a f***** up little c***."
The Daily Mail posted a clip of the leaked audio, which you can listen to below.
Earlier in the clip, which is said to come from filming during one of the first four seasons, Angel appears to take issue with the complaints against her, saying that it's her husband Dick that talks to people like "s***," to which a crew member responds, "And I don't like that either."
In a statement posted on their Instagram page, Dick and Angel wrote, "We know there are lots of stories in the press right now. It's not worth us even trying to comment or give context, because anything can be made into a good headline. We understand. There are two sides to every story and from the incredible support we have received, most of you know that."
"We are proud of who we are, and we feel we must do what we believe to be correct, that is in fact what kept Escape to the Chateau unique, and whilst we have indeed parted ways with Channel 4, we are hugely grateful to them and their teams for their support and creativity over the years," they added.
View this post on Instagram
This isn't the first time the reality-tv couple has been accused of bullying production staff. In April 2021, the Times of London published evidence of Dick and Angel cursing at producers. Those previous altercations led to a separation between the Strawbridges and production company Spark Media Partners. Channel 4 later moved Escape to the Chateau to a new company, Two Rivers Media.
Escape to the Chateau, Seasons 1-9, Streaming, Peacock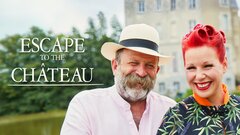 Powered by