Jeff Bridges Gives Health Update Amid Cancer Battle
The Old Man star Jeff Bridges has opened up about his battle with cancer, revealing that his tumor has shrunk "to the size of a marble" following chemotherapy.
In a cover story for AARP, Bridges shared an update on his recovery from non-Hodgkin lymphoma and his severe case of COVID-19 in early 2021. The Oscar-winner explained how a "9-by-12-inch tumor" was found in his stomach in March 2020 while the cast and crew of The Old Man were on a break due to pandemic restrictions.
"I was doing those fight scenes for the first episode of The Old Man and didn't know that I had a 9-by-12-inch tumor in my body… You'd think that would have hurt or something, when they were punching me and stuff," he said. "It didn't."
As he began chemo, he was informed in January 2021 that he'd contracted COVID-19. "I had no immune system to fight it. Chemo had wiped that out, which made it really, really tough," he shared, noting how he couldn't walk or even turn over in those first few days of his five-week hospitalization. "For me, cancer was nothing compared to the COVID," he added.
He admitted to thinking he was dying, recalling how his doctor told him, "Jeff, you've got to fight. You're not fighting."
"But I didn't get it anymore. I just didn't know how to do that," Bridges continued. "I was in surrender mode. I'd say to myself, 'Everybody dies, and this is me dying.' And I'd hear myself go, 'Oh, well, here we are, on to the next adventure.'"
What got Bridges through those difficult weeks was the love of friends and family. "Love was certainly magnified for me during this time," he stated. "Not only from the people around me but also the love in my own heart for them. So what I did was more like giving in to love, you know?"
"My wife Sue was my absolute champion," he added. "She really fought to keep me off a ventilator. I didn't want to be on it, and the doctors didn't necessarily want that. But Sue was adamant."
After weeks in the hospital and many more months recovering at home hooked up to oxygen tanks, Bridges is now just a few days away from returning to The Old Man to start filming Season 2. His tumor has now shrunk "to the size of a marble," and while the effects of his COVID battle still linger, he is back up on his feet and ready for action. He even got to walk his youngest daughter, Hayley, down the aisle in August 2021.
"I'm so blessed to have this cast to talk and jam with," he said of returning to work with his The Old Man crew. "To get back to doing what invigorates you — it feels great, man."
The Old Man, Season 2, TBA, FX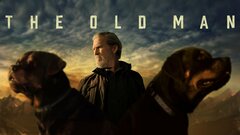 Powered by