'FBI' Forces Scola to Make Tough Decision About Nina & Baby in Season 5 Finale (RECAP)
God Complex
Season 5 • Episode 23
[Warning: The below contains MAJOR spoilers for the FBI Season 5 finale "God Complex."]
FBI ends its fifth season and celebrates its 100th episode with "God Complex," which features a thrilling case that put one of the agents in danger (Missy Peregrym's Maggie) and trouble on a personal front for another.
Before the team starts working their case, Scola (John Boyd) and Nina (Shantel VanSanten) are at home, painting the nursery and disagreeing about the color (blue). "Why entrench this kid in the patriarchy right off the bat? Why not like a pink or orange?" he asks. "We have an opportunity here to mold this child into someone that's unattached to convention and cliché." While Nina agrees, she likes blue (as does Scola). When she gets dizzy, he immediately insists she call her doctor, and she agrees as he heads to work.
But while she thought it was just the fact that she's eight months pregnant, Nina's doctor is concerned about her bloodwork and wants her to meet him at the hospital. Scola leaves work to join her, and they find out she has a listeria infection, which can be serious. In order to make sure it doesn't spread to the placenta, they need to begin treatment right away; the baby's heart rate is starting to drop, and if it continues to do so, they'll have to induce labor. The first step: antibiotics through an IV. Nina insists Scola get back to the case and promises she'll let him know if anything changes.
When Nina's lactic acid levels are too high and the baby's heart rate drops even more, however, they have to induce labor. That's when Scola returns to the hospital — only for the doctor to take him aside and explain that since Nina's under anesthesia for a C-section, as her medical proxy, he must be the one to make the decision: The infection has caused damage to both Nina and their unborn child, and they might only be able to save one of them. It's up to Scola "who takes priority," the doctor explains, and the agent realizes, "you're asking me to choose between Nina and my baby."
And Scola does, telling the doctor, "Obviously I'm praying to God that both of them will be OK, but if you have to, if there's a problem and you have to choose, your priority should be Nina." After that, he can only wait, then FBI makes us wait to find out the outcome by showing Scola holding Nina in her hospital bed after the C-section and telling her "it's OK, I'm here."
It's not until the rest of the team — Maggie, OA (Zeeko Zaki), Tiff (Katherine Renee Kane), Jubal (Jeremy Sisto), and Isobel (Alana De La Garza) — are brought to Scola that we find out the baby is OK, too. In fact, Scola introduces them to Douglas, named after his brother. "He's perfect," Maggie says, and Scola agrees.
And with that, FBI ends its fifth season on a happy note.
FBI, Season 6, TBA, CBS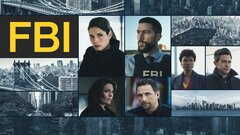 FBI
where to stream
Powered by