'Jeopardy!' Star James Holzhauer Drops Huge News About Show
Self-confessed Jeopardy! "supervillain" James Holzhauer is leading the pack on the currently airing Masters tournament, but the game show icon has admitted he is desperate to return to regular Jeopardy!
His big news comes via a new Vulture interview with the show's executive producer Michael Davies, who was also asked about the chances of ever seeing a rematch between Holzhauer and Ken Jennings.  Early in the Masters tournament, Holzhauer even used his Final Jeopardy answer to call out Jennings for ducking a rematch.
"There are various rules that exist at Jeopardy! that were laid down by the greats. Every now and then I bump up against them. One of those rules is once you've hosted Jeopardy!, you can never play Jeopardy! again," Davies said in regards to whether another Jennings versus Holzhauer match-up is possible.
"Ken has very directly told me he's retired from Jeopardy!. I understand the reason that no one who's hosted can ever play again," he added. "But Arnold Palmer and Jack Nicklaus played the Masters long after they were hosting tournaments on the PGA. I'm probably more open to the idea than other people, but that would never be my decision. Would I like to see Ken and James play again? Absolutely. We'll see."
Even more telling, though, was Davies revealing how Holzhauer dropped the big news to him that he wants to return to the regular syndicated edition of Jeopardy!.
"[Holzhauer] mentioned that his wife had asked if the prize for Masters could be allowing the player to go back on the Monday through Friday version of Jeopardy!," Davies shared. "What he wants more than anything else is to go back on the show."
Holzhauer went on a 32-game winning streak in 2019 and won that year's Tournament of Champions, but former contestants are not eligible to return to regular play as it currently stands.
"We don't allow anybody back on the show who's played before. There's a little part of me that thinks, Does that make sense?" Davies stated. "If I want the best possible people playing this game on the Alex Trebek Stage, do I need to deny previous players from those who never played before? I'm not convinced."
Davies, who took over as showrunner in 2021, has been open about his desire to make Jeopardy! into more of a sport, adding new tournaments and various rule changes to reward the best players.
"I always want to find new players," he continued, "but I'm not sure we should be eliminating everybody who's ever played. There could be another James Holzhauer out there who just had a bad day."
Holzhauer himself tweeted the Vulture article, seemingly confirming his desire to play regular Jeopardy! again. "He laughed, but he didn't say no…," the current Masters board leader wrote in reference to Davies' quote.
He laughed, but he didn't say no… https://t.co/xpdhsVXgh2 pic.twitter.com/r7EJ85IccL

— z – James Holzhauer (@James_Holzhauer) May 19, 2023
"Make it happen @Jeopardy," tweeted one fan, while another wrote, "You'd likely make more money via a return to the regular competition than whatever the Masters championship prize is."
Despite his "bad boy" persona on-screen, Holzhauer recently complimented his fellow Masters opponents Amy Schneider and Sam Buttrey, who were both eliminated from the tournament on Wednesday, May 17.
"When my wife asked @Jeopardamy to participate in our fundraiser last year, Amy jumped at the chance to pay her own way to Las Vegas and volunteer," he shared. "It was my honor to share the Masters stage with an inspiration, a phenomenal Jeopardy player and an even better human."
No-kayfabe🧵

When my wife asked @Jeopardamy to participate in our fundraiser last year, Amy jumped at the chance to pay her own way to Las Vegas and volunteer.

It was my honor to share the Masters stage with an inspiration, a phenomenal Jeopardy player and an even better human. pic.twitter.com/IskRobV8ho

— z – James Holzhauer (@James_Holzhauer) May 18, 2023
In regards to Buttrey, Holzhauer tweeted, "I had only briefly met @sam_buttrey prior to these tapings, but his charm and wit were immediately evident. When he wasn't busy winning America's hearts, he was the only Masters contestant to outperform me on the signaling device head-to-head (check the box scores!)"
I had only briefly met @sam_buttrey prior to these tapings, but his charm and wit were immediately evident. When he wasn't busy winning America's hearts, he was the only Masters contestant to outperform me on the signaling device head-to-head (check the box scores!) pic.twitter.com/qBNpPMBt2A

— z – James Holzhauer (@James_Holzhauer) May 18, 2023
Jeopardy! Masters, Weeknights, 8-9 pm et, ABC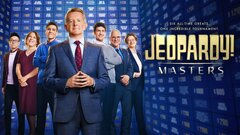 Powered by