'Jeopardy!' Champ Amy Schneider Reacts After Dramatic 'Masters' Elimination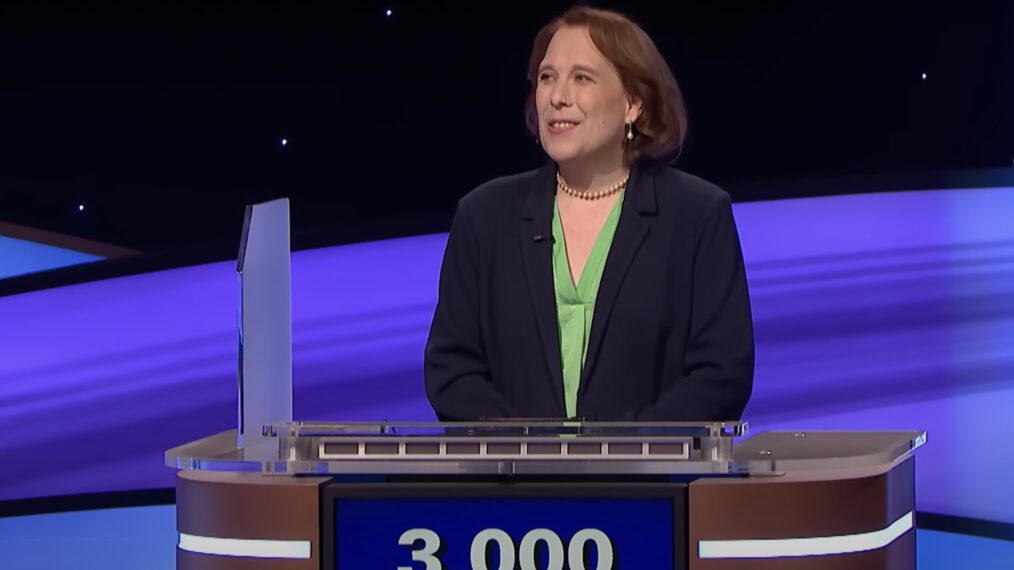 Jeopardy! Masters took things to another level on Wednesday (May 17) night as two contestants were eliminated from the high-stakes competition, including a shock exit for the 2022 Tournament of Champions winner.
The final four who will compete in the semi finals has now been set. They will face-off on May 22 and 23, when one more competitor will be eliminated before the finals on Wednesday, May 24. The ultimate winner will receive a $500,000 grand prize.
As the competition finished out its second week last night, the field was whittled down to four, with fan favorites Amy Schneider and Sam Buttrey eliminated.
Schneider, who won an impressive 40 games in a row during her run on regular Jeopardy, failed to get a win on the board in the Masters tournament, finishing in second place five times straight before Wednesday's game.
In her final game, she came up against the current board leaders, James Holzhauer and Andrew He, where her fate was sealed. As this competition is based on points, her loss on Wednesday left Schneider in fifth place on the leaderboard, meaning she was eliminated.
Before Schneider's game began, the odds against her were insurmountable as Matt Amodio won the night's first game against Buttrey and Mattea Roach. That meant Amodio jumped up the leaderboard by three points, placing him third behind He and Holzhauer, with Roach sitting in fourth place.
After her exit from the competition, Schneider was perhaps predictably pragmatic and tried to put a positive spin on what had happened.
"To the best of my knowledge, only two games of Jeopardy have ever aired in which nothing was at stake, and I played in both of them. So that's something," Schneider tweeted after the episode, referencing the exhibition game she played against Amodio and Roach earlier this year.
To the best of my knowledge, only two games of Jeopardy have ever aired in which nothing was at stake, and I played in both of them.

So that's something 🤷‍♀️

— Amy Schneider (@Jeopardamy) May 18, 2023
As for Buttrey, he had no chance of advancing in the tournament even before his match-up against Amodio and Roach. Still, the beloved professor took the game in his stride, thanking the show's writers for making his time on the show such a wonderful experience.
There was then an emotional hug after Amodio said Buttrey was "the dearest friend I've made in all of Jeopardy!," before telling him, "Thank you so much, Sam."
"Give it up," Buttrey replied as the pair embraced.
Matt Amodio and Sam Buttrey: brainiacs *and* besties. #JeopardyMasters pic.twitter.com/nipZnRP43o

— Jeopardy! (@Jeopardy) May 17, 2023
There was a lot of love for Buttrey on social media, with one fan referring to him as "a national treasure." And even self-confessed game show "supervillain" Holzhauer tweeted his adoration for Buttrey.
Let's hear it for the writers, indeed!! And this was shot BEFORE the Writers Strike!! Sam knows where the brilliance is! Nicely put!#Jeopardy #JeopardyMasters #BringIt #WGA #WGAstrong #WritersStrike pic.twitter.com/L5ue1ub8JG

— JayD (@iDemops) May 18, 2023
I'm gonna miss Sam after #JeopardyMasters. He so awesome. I would love to just listen to him tell stories about his life. Wish he would do a podcast! #Jeopardy

— waterdogs (@waterdogs17) May 18, 2023
Congrats @sam_buttrey for your performance on #JeopardyMasters . I enjoyed watching you these past two weeks very much. #BringIt

— Mrs. D Wirtel (@DWirtel) May 18, 2023
Sam Buttrey is a national treasure. #JeopardyMasters #SamButtrey #BringIt

— Jim Carlisle (@JimCarlisle88) May 18, 2023
Get this man his own TV show pic.twitter.com/6DqIFyEQJH

— z – James Holzhauer (@James_Holzhauer) May 17, 2023
While Holzhauer has dominated the field so far, things could all change in the semifinals, as the point values are reset for each remaining contestant. At the end of the semifinals, the contestant with the fewest points will be eliminated.
Jeopardy! Masters, Mon-Wed, 8-9 pm et, ABC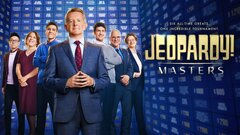 Powered by